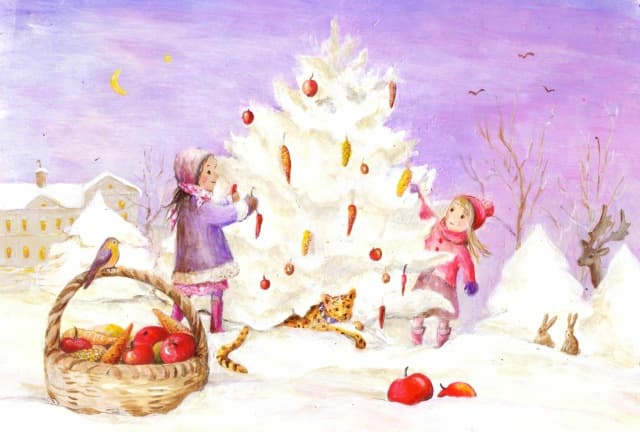 Advent, Mcely Style
November 30 - December 21
The winter chateau swathed in fairy lights • Gleaming chandeliers hung from centuries-old oaks • A Christmas tree and the English park glittering at night with light • Over 7,500 light bulbs • A Christmas tree and decorated interior • Advent concerts
Spa break • Homemade Christmas cookies

First Weekend of Advent, November 30 - December 2
Saturday, December 1, 4:00 p.m.
Charity Advent Concert in the neighboring church of St. Wenceslas in Mcely by the George of Podebrady Secondary School Choir
A pleasant walk through the winter English park leads to the church.
Admission fee voluntary. All proceeds go towards the local parish.
5:30 p.m.
Ceremonial Lighting of the Park and Christmas Tree
Carols, Christmas cookies, and mulled wine
Second Weekend of Advent, December 7 - 9
Saturday, December 8, 4:00 p.m.
Musica Festiva di Praga Chamber Orchestra Advent Concert in the Chateau Salons
Third Weekend of Advent, December 14 - 16
Saturday, December 15, 2:00 – 4:30 p.m.
Beaded Christmas ornament and floral Advent decorations workshop
The weekends will be peaceful - perfect for recharging your energy before the pre-Christmas hustle and bustle and New Year's celebrations. From December 14-21, take advantage of a 30% discount on accommodation.
During the Advent season, you can take an excursion into the surrounding countryside, such as to the nearby Loučeň chateau, or explore the unique atmosphere of the open-air museum of folk architecture in Přerov nad Labem, where you can travel back in time and learn about how Christmas was celebrated in the old days. If there's snow, we recommend horse-drawn sleigh rides in the surrounding winter landscape. Please book in advance before your arrival.
Special Winter Massage: Winter Warming Herbal Touch
1. 12. 2018 – 1. 1. 2019
Envelop your body in fragrance, warm yourself in a herbal wrap, and enjoy this exceptional experience.
The ritual begins with a tangerine foot scrub, leaving your feet velvety smooth and fragrant, followed by a full-body aroma massage with precious massage oils from the MCELY BOUQUET collection using warm herbal pouches and a warming buckwheat neck wrap. Enhance your Advent experience with our delicious St. George's tea to help rehydrate your body and remove toxins.
CZK 2,990 / 90 minutes
The Advent program events are held in Czech and free of charge for accommodated guests. Chateau Mcely reserves the right to make changes to the program.