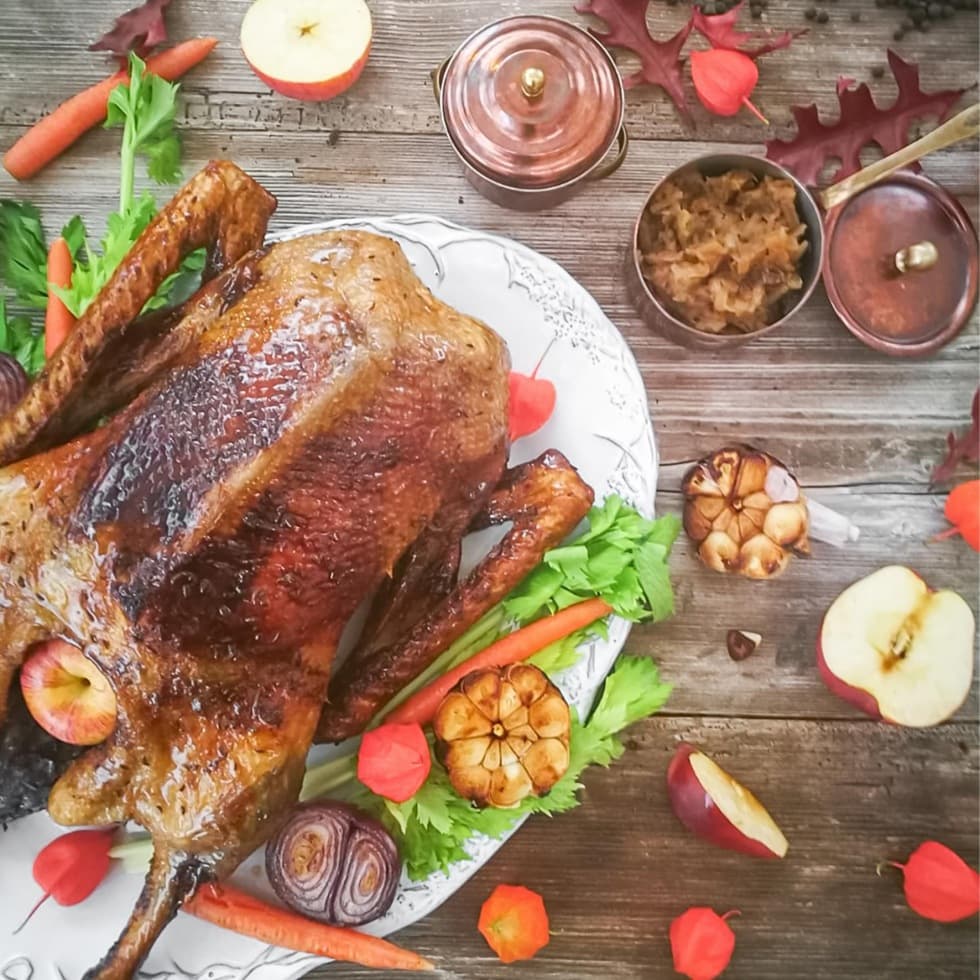 St. Martin's Day Menu
for Your Table
Enjoy delicious food from our kitchens in the comfort of your own home once again.
Surprise your family - treat them and yourself to a traditional St. Martin's Day lunch or dinner with a traditional roast goose menu from the cooking team of Honza Štěrba.
We'll prepare the dishes so that you can easily finish and serve them at. They will be individually securely wrapped to maintain maximum freshness and include all the instructions.
---
Soup
Goose "kaldoun"
Liver dumplings · Homemade noodles
Main Course
Crispy roast goose
Potato pancakes · Cabbage · Almonds · St. Martin wine
Price of this menu, including 1 bottle of St. Martin's wine
from Sedlák family winery for 2 persons: CZK 2 300
Once you place your order, we will send you a confirmation asking you to pay online.
General terms:
Delivery time is between 12:00 and 6:00 pm. We will contact you in advance with a more specific delivery time. The price of delivery to the requested address is 200 CZK.
Orders should be placed by midnight on Sunday, Nov. 7, 2021, or while supplies last.
After you have paid online, please wait for an email confirming receipt of your payment, at which point your order will be finalized.
If you have allergies or other dietary restrictions, please contact the reception desk.
We will gladly provide allergen information on request.
In the "Message" field, you can ask any additional questions or add MCELY BOUQUET natural cosmetics products or Chateau Mcely gift items or gift certificates to your order. We will be happy to prepare and deliver everything to you.
We reserve the right to change the conditions. We appreciate your understanding.
The Chateau Mcely Team