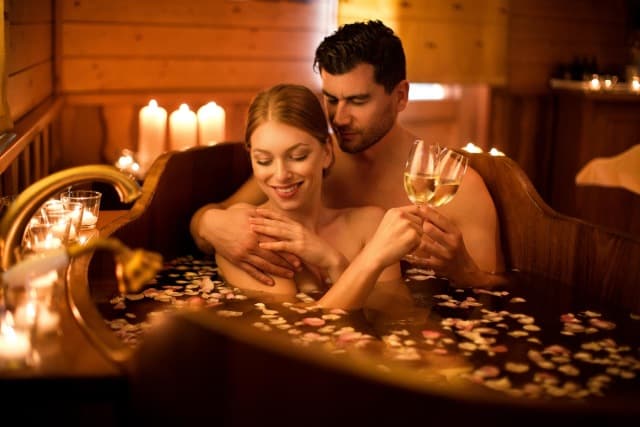 Sybaritic Weekend
September 26 – 28
Sybaritic – luxurious, pampered, lavish, pleasure-seeking, sensual, hedonistic, decadent, unrestrained, fast-living
Enjoy long weekend with special offers:
2 nights, second one with 50 % advantage

Ritual for couples at the Mcely Bouquet spa, Gourmet Harmony, with 20% off
This sensual ritual provides not only fragrant silky skin and deep relaxation from everyday worries, but also an almost gourmet aromatic experience with the application of three MCELY BOUQUET products – Tangerine Candy Peeling, Melt Velvet massage candle scented with vanilla, and White Chocolate Balm. The therapy also includes a couple's bath in the wooden tub in the Honey Pavilion, accompanied by a glass of Prosecco.
120 minutes – CZK 10,590 for two people
Special price of ritual for this weekend – CZK 8,472 for two people

Special menu & Champagne
Lobster bisque
Poached prawns • Cream with wild salmon caviar
1.5 dcl Marsannay, Pierre Bourée & Fils 2014
Tenderloin of Beef "Royal"
Foie gras ∙ Parsley pyreé ∙ Spinach ∙ Tarragon sauce
1.5 dcl Billecart Salmon Rosé, Brut
​​​​​​Nougat cream
Nuts • Raspberries • Gold leaf
2 dcl Baron Hildprant Ripe Raspberry
Price per person (including beverages): CZK 2,400
Price per person (beverages not included): CZK 1,490
In case of your interest please make a reservation in advance. The number of portions may be limited.