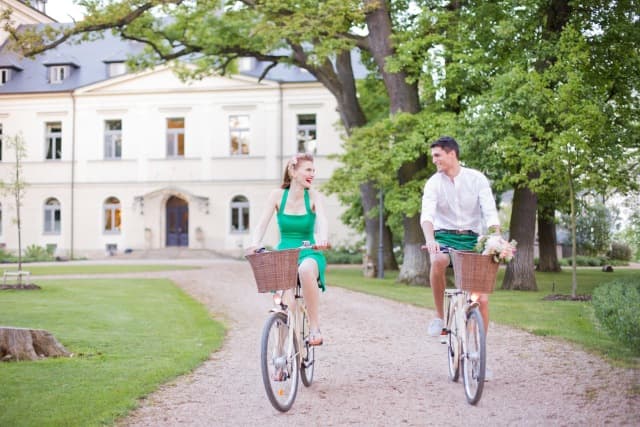 The Carefree Summer Of Your Dreams
Rent the entire chateau exclusively for your summer holiday vacation and enjoy a undisturbed dream couple of days with just your family and friends in the absolute privacy and security of the chateau situated amidst nature and the English park. The chateau and all 25 of its rooms, as well as the five-hectare park, will be at your full disposal for rest and relaxation.
The entire team are here to take care of you and your wishes.
How about this:
Morning yoga in the Meditation Garden
Breakfast on the garden patio
Morning walk in the park or in the nearby St. George Forest.
Children can play on the playground and experience adventures in different corners of the park. We would be happy to plan a sports program for your children, pony rides, and creative crafting.
Lunch on rattan chairs on the south parterre of the English park
An afternoon bike ride through the surrounding countryside or to nearby attractions
Afternoon coffee with homemade cake in the garden gazebo in the park
Swimming in the pool, sunbathing on the Mcely beach, and refreshing watermelon
Summer therapy under the Mcely sky in the meditation garden.
Dinner under a plane tree in the English park
Outdoor cinema in the park with a glass of wine and popcorn
Scavenger hunt for kids
Romantic whirlpool under the stars
and much more...
Price from 1 night on request.
Please contact our event department by e-mail at Events@ChateauMcely.com.
Veronika and Jana will be happy to prepare a personalized price quote and activity plan for your custom-tailored holiday.