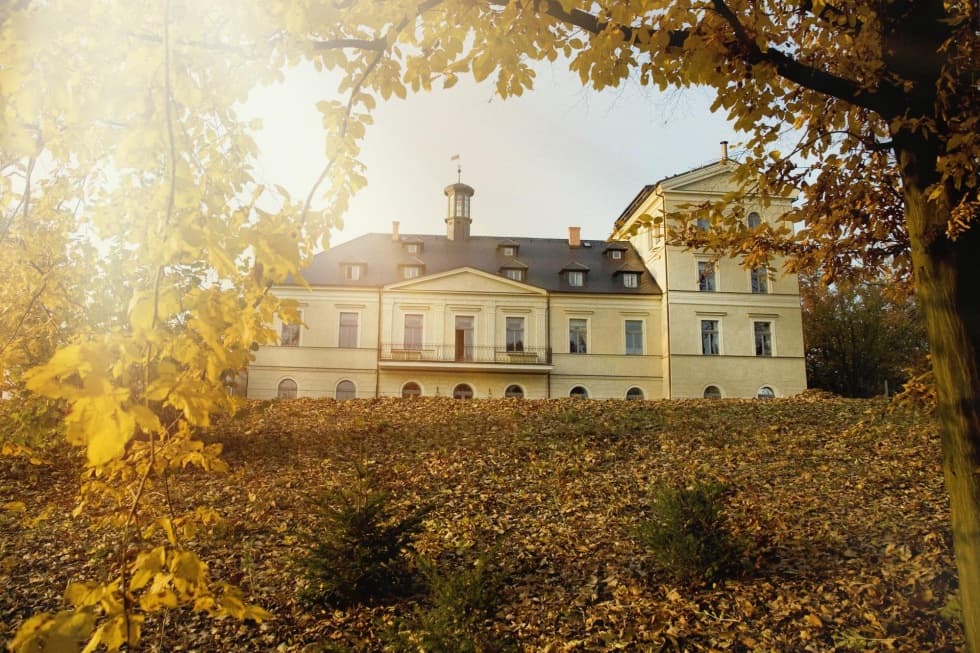 Fall Yoga Goddess Gathering
November 5–7, 2021
Bring this year to a close feeling more balanced with the help of this motivational active yoga weekend full of deep experiences and relaxation for harmony of body and soul.
Topic: kindness and gratitude for your body and beneficial aromatherapy
---
Package includes:
2 nights in the room or suite of your choice with breakfast
Full board - two-course light menu with mineral water (Friday dinner, Saturday lunch and dinner, Sunday lunch)
A full weekend program with Jana Kyriakou
Water during exercise classes
Unguided meditation in the privacy of your room
Use of the sauna and whirlpool, depending on availability and with advance reservation
Other small gifts in your room from the Chateau Mcely team
Price per package per two persons:
Please contact us to verify the availability of your room. A 100% non-refundable deposit will be required upon confirmation of your reservation. This two night's package cannot be combined.
Lecturers and time schedule:
Jana Kyriakou
Jana says she's an eternal student of the body, mind, and life mashed up with the hip-hop style of Beyoncé. She has over twenty years of practice and teaching experience with conscious work for the body and mind for children, teens, and adults. She helps her clients feel at home in their bodies, to make friends with their minds, and fulfill their life potential. At the same time, she encourages people to laugh more and to dance as if no one was watching. Jana bases her practice on the yoga psychology system by Ashley Turner. She is also certified instructor of dance, Hatha Yoga, Yin Yoga, Pilates, Laughter Yoga, mindfulness, and the EmbodyLoveMovement® program, focusing on body-image, self-esteem, and self-acceptance issues. She is the founder of the BeWell Institute, which focuses on a holistic approach to a healthy and easygoing life for women and girls with big dreams.
Friday, November 5
5:00 – 5:45 p.m. Goddess Welcome Ritual with St. George Herbal Tea
Evening Yin Yoga
Group 1 - 6:00 – 7:15 p.m.
Group 2 - 7:30 – 8:45 p.m.
Yin Yoga is a special form of yoga inducing relaxation of body and mind. It's based on the ancient Eastern theory of harmony of the yin (calm) and yang (active) energy, meridian systems according to Chinese medicine, as well as modern medical knowledge about connective tissues. Yin positions on the ground do not involve the muscles – only gravity will be used to relieve tension. Positions are held for several minutes, during which guided mindfulness meditation is used. Due to the relaxing nature of the practice, we recommend that you dress warmly.
Individual Two-Course Dinner
Group 2 - 6:00 p.m.
Group 1 - 8:00 p.m.
Saturday, November 6
8:00 – 10:00 a.m. Individual Breakfast
Pilates for Sore Backs
Group 1 - 10:00 – 11:00 a.m.
Group 2 - 11:15 – 12:15 p.m.
Pilates is a physiotherapy method utilizing healthy conscious movement. It focuses on the proper position and functioning of the whole body. The practice involves conscious, slow strengthening of the body's core and the deep stabilizing muscles around the spine, proper stretching, and healthy breathing techniques.
12:30 – 3:00 p.m. Individual Two-Course Lunch
Dance Yoga and Meditation in Motion
Group 1 - 4:30 – 5:50 p.m.
Group 2 - 6:05 – 7:25 p.m.
Yoga and dance have much in common when practiced like meditation in motion. Conscious movement, with no strict rules or steps, comes from within ourselves, from our souls. Sometimes our body is able to express our feelings better than words. This class can be used as a way to relieve stress or as a path towards finding yourself. This evening, enjoy music specially prepared for releasing the feminine energy of your inner Goddess. The feminine energy within us has strength and tenderness, creativity, beauty, unconditional love, and compassion. Sometimes in life we lose and forget that we have these qualities. Thanks to music and movement in a circle of other goddesses, we can return home to our very essences.
Individual Two-Course Dinner
Group 1 - 6:00 p.m.
Group 2 - 8:00 p.m.
Sunday, November 7
8:00 – 10:30 a.m.Individual Breakfast
Morning Gentle Yoga
Group 1 - 8:00 – 9:00 a.m. (breakfast after yoga)
Group 2 - 9:15 – 10:15 a.m. (breakfast before yoga)
During gentle morning yoga, we will continue to draw on our gentle feminine energy to slowly and deliberately get our bodies moving. We'll breathe gently, and of course we'll practice a special Mcely Goddess version of the morning sun salutation.
Check-out 11:00 a.m.
11:30 – 12:50 a.m. Final Group Meditation
Closing Ritual for both groups. – deepening the experiences of the weekend with beneficial aromatherapy led by Jana Kyriakou together with Inéz Cusumano, owner of Chateau Mcely and a passionate herbal and spiritual alchemist. You can then continue with this ritual in your everyday life, further developing feelings of love, grounding, peace, and upliftment
Group weekend finale. Yoga clothing not required.
General
The program will be conducted in Czech for Group 1 and in English for Group 2. Each class will include a bit of theory, philosophy, and sharing experiences, as well as appropriate aromatherapies depending on the time of day.
For all the classes we recommend comfortable sports clothes and a sweater or sweatshirt for the relaxation part. Classes are suitable for all levels and no previous yoga experience is required. If you have any serious physical or mental health issues, please contact Jana Kyriakou in advance by e-mail (jana@janakyriakou.com) to discuss the suitability of the practices or how they can be modified to suit you. If you have your favorite yoga mat, please feel free to bring it with you.
Chateau Mcely reserves the right to make changes to the program.
We recommend using your free time for deep relaxation and rest in the MCELY BOUQUET SPA (advance booking required).
Take advantage of special benefits for autumn goddesses from November 5 to 7!
20% discount on therapies and massages of your choice
10% discount on the purchase of MCELY BOUQUET cosmetics (does not apply to e-shop)