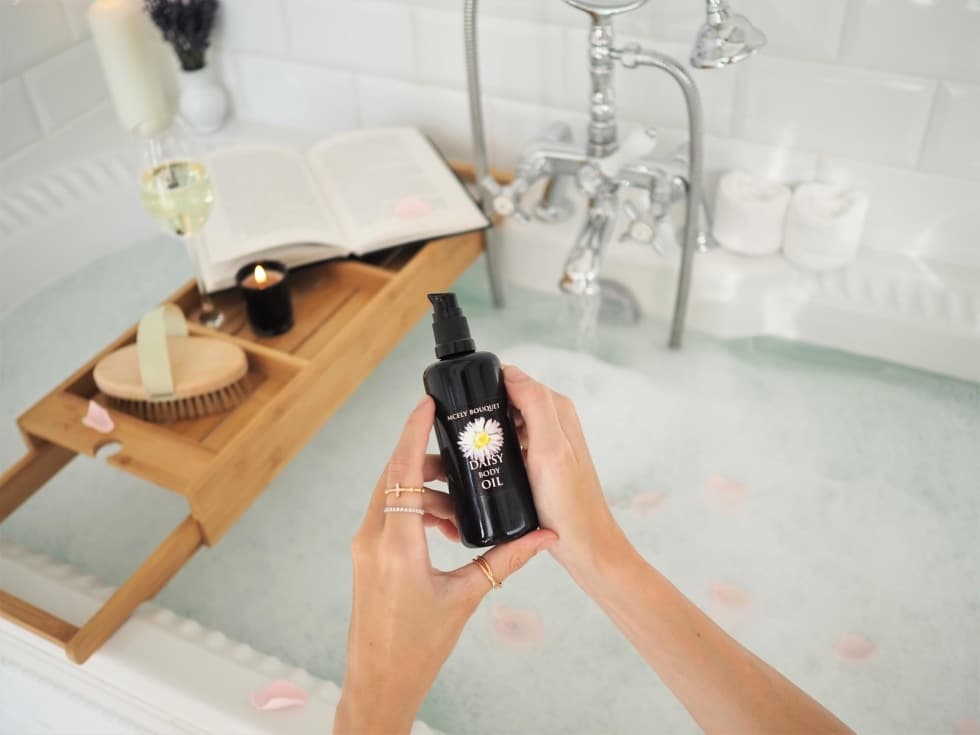 Caring Rituals
Mcely Bouquet
March 1, 2019
Author: Inéz Cusumano
In 2010, the Mcely Bouquet cosmetic line was born, the brainchild of Inéz Cusumano, owner of Chateau Mcely. "It took years of work and study, and I had to bring in many experts to help me, but in the end, the original collection was born - precisely the way I wanted it and without compromise, from the purest and highest-quality ingredients.
We produce each product in our chateau laboratory, always freshly hand-blended in small batches. For a more profound experience and mental relaxation, I recommend creating your own little private rituals when using Mcely Bouquet products. I've added a few of my own for inspiration. I hope they serve you, rejuvenate your skin, and lift your spirits."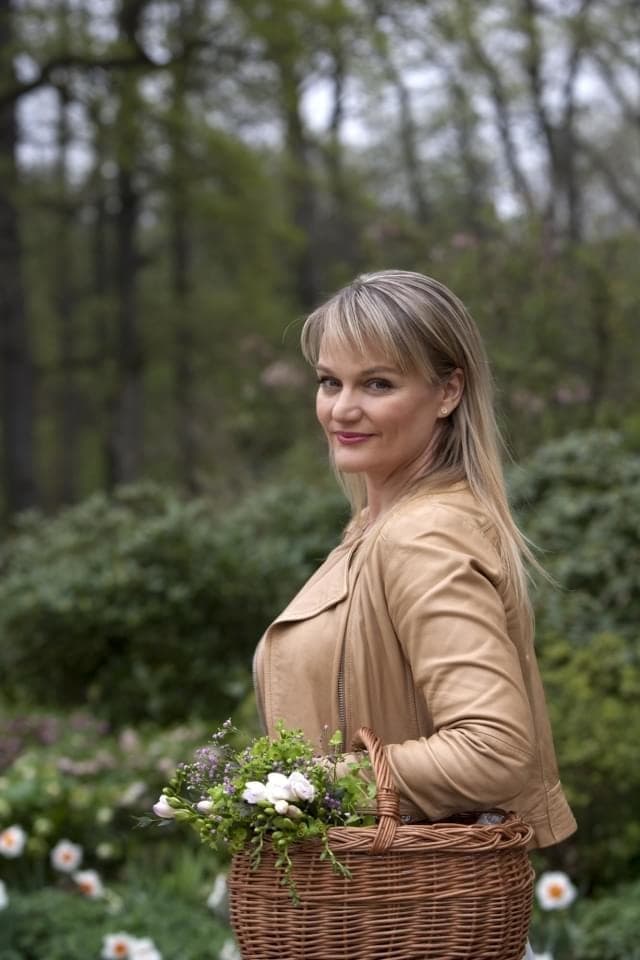 Rose is a Rose
Rose Facial Serum, Royal Herbal Spritz, Rose Conditioning Mist
The culmination of the Mcely Bouquet-style treatment is the application of a few drops of Rose Facial Serum to a face cleansed and toned with Royal Herbal Spritz or pure Rose Conditioning Mist. Take a moment to observe how you feel on a psychological and emotional level when you apply it. The rose - the queen of flowers - with its heavenly aroma is the perfect scent of female beauty and harmony, poetry, and myths. The rose enters your heart, expanding to strengthen your inner faith in the power of love. It gently but effectively fights depression, sadness, and feelings of insecurity. Our Bulgarian supplier uses 4000 kilograms of fresh rose petals to produce one kilogram of rare essential oil. Dozens of kilograms of daisies, lemon balm, calendula, yarrow, and chamomile flowers from the Czech meadows have lent their healing power to our extracts. They're combined with the other ingredients to create a potent nourishing elixir that works intensively for hours after application to keep your skin looking younger and healthier and your heart happier.
Mcely Glow
Sea Buckthorn Eye Balm, Rosemary Butter Cleanser, Royal Herbal Spritz, Rose Conditioning Mist, Divine Herbal Cream, Rose Facial Serum, Calendula Face Mask, Saint John's Wort Hair Elixir
Even after the busiest of days, take a few minutes to cleanse your face for a little mental refreshment. Remove your eye makeup with Sea Buckthorn Eye Balm, which moisturizes and rejuvenates the area around your eyes while helping to prevent wrinkles. Then massage your face and décolleté with fragrant Rosemary Butter Cleanser. Soak a washcloth in hot water and apply it to your face, thoroughly removing all impurities and simulating an express steam bath for your face while indulging in gentle exfoliation. The skin will be better prepared to take advantage of the regenerating effects of the products. After drying, continue toning with Royal Herbal Spritz or natural Rose Conditioning Mist. Finally, apply Divine Herbal Cream or a few drops of Rose Facial Serum on your still-damp face. Once a week, or before an event when you need to look especially radiant, add a miraculous Calendula Face Mask to your cleansing ritual between the cleansing and toning steps. Enjoy the incredibly broad spectrum of the mask's effects. Take advantage of the time you spend cleansing your face to clear and stop your flow of thoughts. Focus on the aromas of the essential oils to help you do this. We recommend adding a regenerating hair wrap using Saint John's Wort Hair Elixir to the ritual once a week.
Awakening the Goddess of Love Ritual
Daisy Body Oil, Rose Facial Serum, Rose Conditioning Mist
Treat yourself to a relaxing bath and step out of the "sea" like Aphrodite, ready to receive and share love. Dry yourself gently and massage your whole body lovingly with Daisy Body Oil. Start at the feet and slowly work your way up. Indulge in the sensual scent of all nine flowers - exotic jasmine, rose, neroli, geranium, local daisies, lemon balm, chamomile, calendula, and yarrow, whose essence heads straight for your heart. Become aware of your natural feminine beauty and attractiveness, your compelling irresistibility, and growing desire. Your heart is open, and love flows in all directions. You're ready to share it generously. Finally, treat your face with Rose Facial Serum.
Our tip: After a too-hot bath, refresh your skin with a spritz of natural Rose Conditioning Mist.
Cleansing Sage Ritual
Sage Body Scrub, Daisy Body Oil, Melissa Body Balm
(Tangerine Candy Scrub, White Chocolate Balm)
What the complete Mcely Glow does for the face, the Cleansing Sage Ritual achieves for the whole body. The purifying sage scrub contains Himalayan salt, which has powerful detoxifying effects, drawing out impurities from the body. Indulge in this ritual once a week to instantly make you feel younger and fresher. Thoroughly massage the sage scrub into dry skin all over your body. If you have time, immerse yourself completely in a warm bath and enjoy the regenerating effects of the peel for a while. Finally, shower, dry yourself, and massage your entire body with sensual Daisy Body Oil or nourishing Melissa Body Balm.
Our tip: If you have sensitive skin, we recommend replacing the Sage Body Scrub with Tangerine Candy Scrub and using White Chocolate Balm, which is suitable for problematic skin or those suffering from eczema as it does not contain essential oils.
"Strengthening Courage" Ritual
Yarrow Bath Oil, Mint Foot Relief, Wild Thyme Hand Balm, Nine Flowers Balm
Carry on the ancient tradition of anointing kings with precious oils before an important event, and treat yourself to an exceptional experience with Yarrow Bath Oil any time of day. Apply the oil to your whole body while in the shower. It contains both essential oil and extract of yarrow, which warriors have used for centuries to heal wounds of the body and soul. They also put it in an amulet as protection against all evil. Finally, rinse with clear water under the shower, without using shower gel or soap, then dry yourself with a towel or just slip into a terry bathrobe. Continue the care by applying Mint Foot Relief to help relieve foot fatigue, boost blood circulation, and reduce swelling. Shea butter together with jojoba oil thoroughly regenerate and soften the skin of your feet. Finally, treat your hands to a wrap with our Wild Thyme Hand Balm. For problem areas, you can replace the hand balm with the miraculous Nine Flowers Balm for faster healing.
Tender Caress Ritual
Sage Body Scrub, Tangerine Candy Scrub, Royal Herbal Spritz, Wild Thyme Hand Balm
Treat your hands once a week to deep cleansing, regeneration, and protection. Apply Sage or Tangerine Scrub to dry hands and massage them as long and as thoroughly as you feel comfortable. Rinse them with clean water and dry them. Spray Royal Herbal Spritz on your hands and rub a bit of Wild Thyme Hand Balm lightly in your still-damp palms. Bring your hands to your face and take several deep breaths in and out. Imagine you are slowly walking through the summer forest of your childhood, surrounded by the beautiful scents of trees and herbs, the intense fragrance of blossoming wild thyme. Massage the balm gently into your hands, even up to your elbows. Become aware of new feelings of calm, harmony, comfort, and solace. For an exceptionally soft touch, do this ritual just before bedtime. Apply a thicker layer of hand balm, put on white cotton gloves, and keep them on until you wake up. Don't forget to lavish tender caresses afterwards.
Ritual for Beautiful Feet
Sage Body Scrub, Mint Foot Relief, Nine Flowers Balm
Prepare a sufficiently large basin of warm water. Start your foot care with a dynamic but gentle massage using Sage Body Scrub to remove callused skin on the heels and stimulate blood circulation, regeneration, and healing. Jojoba oil, extracts of five local herbs, and nine essential oils provide intense moisture for the skin on your feet. Then rinse the scrub off. Enjoy a warm foot bath and take a moment to think about what you are or can be grateful for today.
After a short relaxation, dry your feet and gently massage in Mint Foot Balm for intense hydration, improving the lymphatic system in swollen feet, and stimulating blood circulation in feet tired from walking in heels or standing all day. For deeper rejuvenation, apply a thicker layer of balm and pull on a pair of cotton socks. Ideally, leave it on overnight.
For abrasions, blisters, and corns, and painful big toes, use the miraculous Nine Flowers Balm.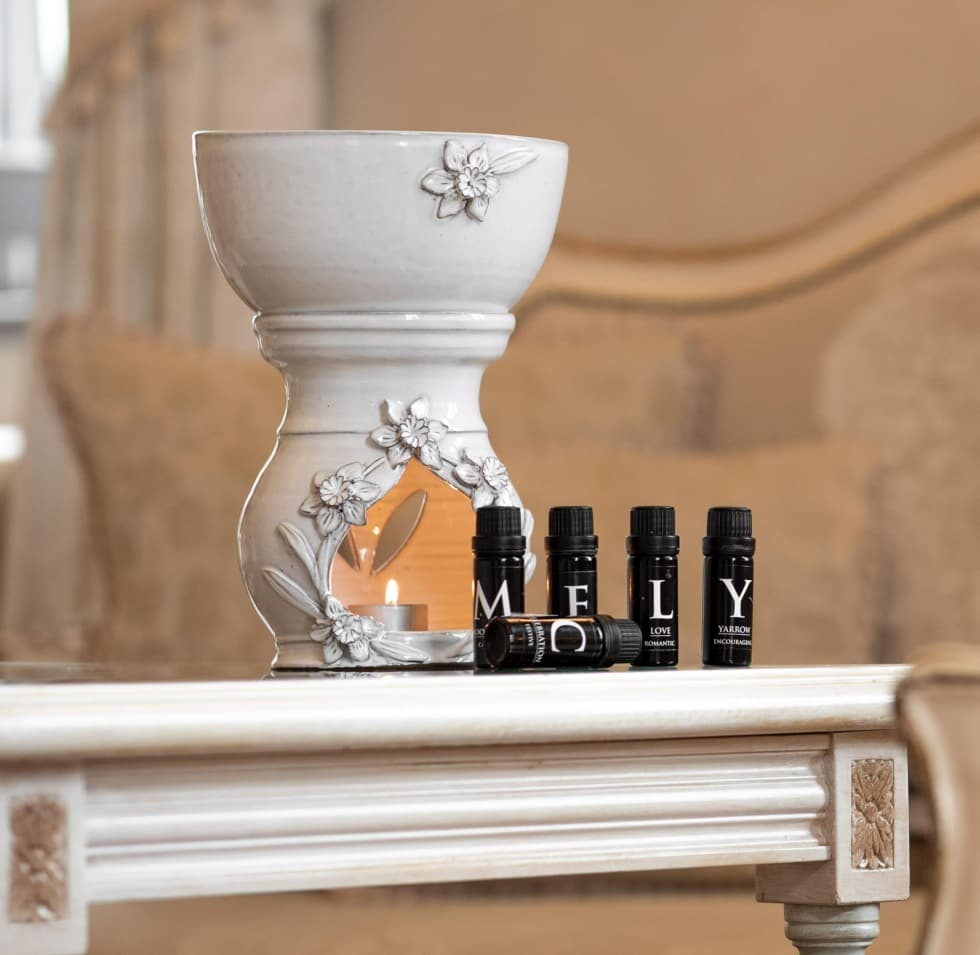 Aroma Rituals for More Beautiful, Effective, and Relaxing days
Try our rituals to help you manage your day better. Treat yourself to much-needed spa care for your soul every day!
Morning Ritual with Yarrow
Add 5 to 10 drops of Y-Yarrow, the elixir of good mood and concentration of the senses, to the diffuser. Set up your diffuser the evening before so that in the morning you're not discouraged by the lack of time and you can savor your favorite cup of coffee or tea in your scent-infused kitchen and start your new day with a smile.
Evening Ritual with Moonlight
Add 5 to 10 drops of M-Moonlight to your diffuser to create a deep, restful atmosphere after a hard day and to calm the mind as your drift off to sleep. Summer Bonus: The dominant note in our "M" essential oil is lavender, which is also a great mosquito deterrent. If mosquitos love you, you'll love our M!
Afternoon Energy Ritual
Add 5 to 10 drops of E-Energy to your diffuser - the equivalent of a double espresso - to help improve concentration and provide intense energy support. Allow the scent to waft through your office, study room, or kitchen, where you care for your children and prepare dinner, even when you're getting tired.