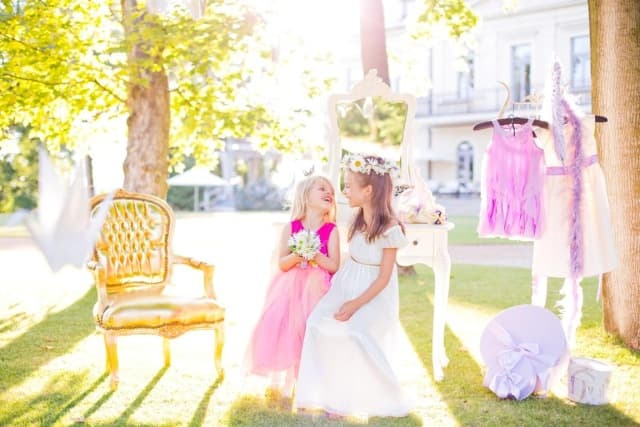 Families
Chateau Mcely radiates a special family atmosphere, making a great place for stays with children. A princess atmosphere creates the storybook about Nely, Princess of Chateau Mcely. All our children's services are inspired by the book's themes, from a stylishly furnished suite, to delicious princess meals and relaxing moments in the spa, to an original collection of adorable Princess Nely gift items.
Nely, Princess of Chateau Mcely
Princess Nely is a storybook character from the beautifully illustrated children's book "Nely, Princess of Chateau Mcely", written by the chateau's owner, Inéz Cusumano.
The simple yet dynamic story describes one of Nely's summer days as she finds ways to entertain herself at the chateau. The princess wakes up one morning and finds that her parents are busy working and can't play with her, and to top it off, there are no children staying at the chateau. Equipped with her limitless child's imagination, recollections from her travels with her parents around the world, and her mother's bedtime stories, she sets off on an exciting expedition. The whole world is there to be discovered at the chateau.
Tips for Trips Around

Carriage rides in the St. George Forest
Mirakulum – an entertaining yet educational children's park in Milovice (21 km)
Košík Organic Farm – Children can see and pet not only domestic and farm animals, but also foxes and many others. (8 km)
Staré Hrady Fairytale Castle and Chateau (17 km)
ZOO Chleby (12 km)
Loučeň Chateau labyrinth (5 km)
Botanicus Historical Village in Ostrá (27 km)
Folklore Museum in Přerov nad Labem (46 km)
Entertainment in the English Park
Fireplace with benches ready for roasting sausages (wood, blankets and sausages are prepared by a team of Chateau Mcely).
The children will enjoy Princess Julinka's house full of toys, which stands on the site of a former children's house- that of Prince Alexander Thurn-Taxis.
Under the Daisy Children's Playground with sandpit, slide, swings and hammocks.
Hotel for bugs, where children can see them swarming in their natural environment.
Finally, a natural swimming lake.
Children's bikes for the youngest children can be rented.
If you are lucky you will meet with the elegant peacock from the neighboring farm, who likes the paths of the castle park.