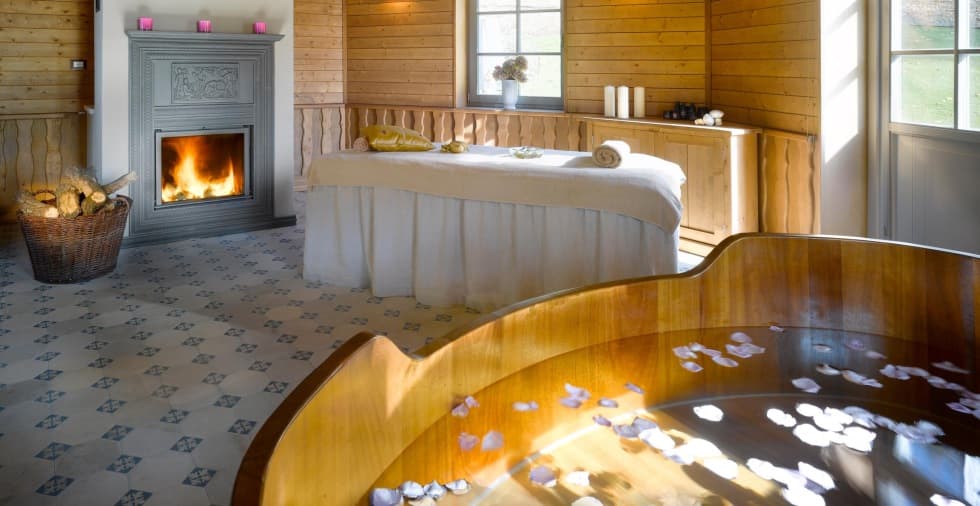 MCELY BOUQUET SPA
The MCELY BOUQUET SPA is dedicated to natural, locally inspired herbal aromatherapies.
Stop time for a little while and allow yourself to be pampered in our oasis of calm and beauty.
Our mission is to provide you deep relief from stress, regenerate your body, and uplift your spirit.
We are introduce our new yoga video, which we now offer to you to practice in the safety and warmth of your home.
Our favorite yoga instructors Jana Kyriakou and Lucie Martinová will practice with you against
the background of Chateau Mcely's bright yet elegant Golden Hall.
Jana soothing voice will gently guide you through the lesson, which offers deep relaxation
and helps establish balance of body and mind. Play video
When can you visit the Spa?
From 8:00 a.m. to 8:00 p.m. only with prior booking.
Spa procedures may be booked without acccommodation.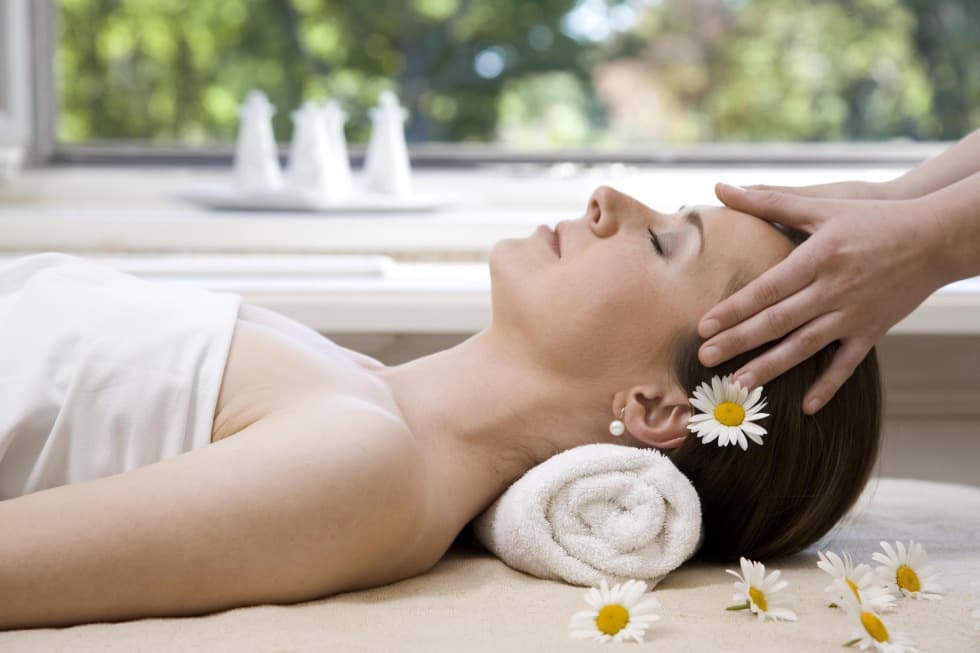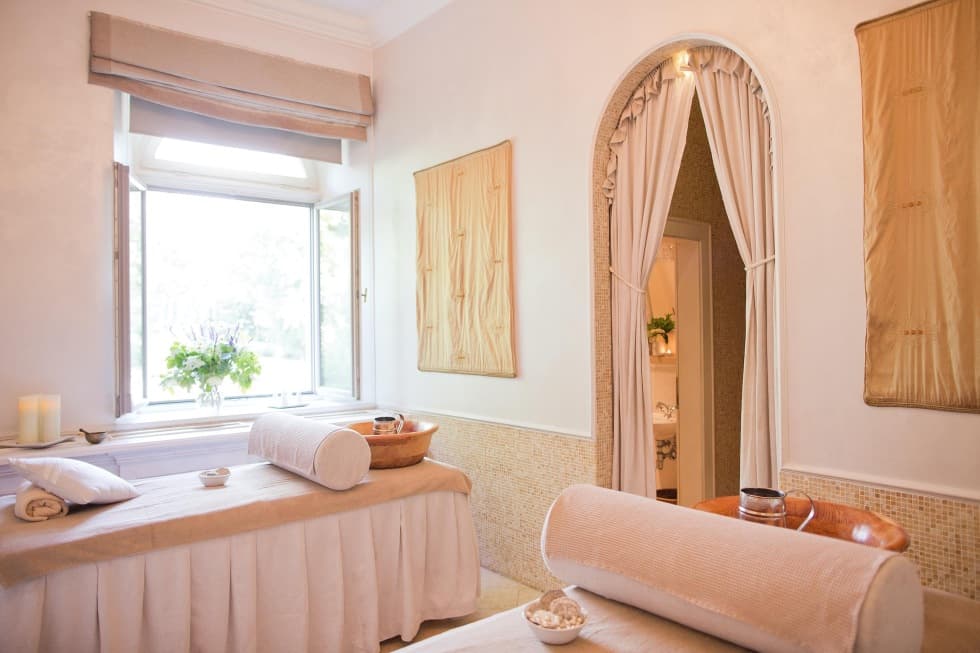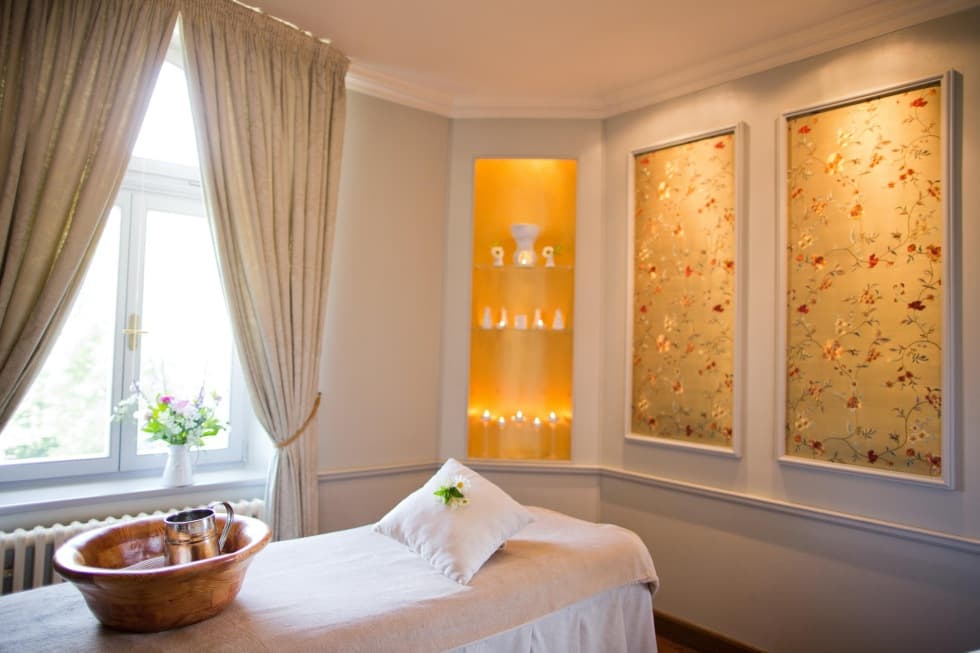 Deep Autumn Relaxation
October - November 2023
Move calmly into the next phase of the year - relax and replenish your batteries during the romantic days of autumn. Try a limited edition massage focused on the parts of your body that hold the most mental and physical stress to help you unwind, warm you up, and maximize relaxation.
90 minutes - CZK 3,690
Start with a deep back massage to relieve stiffness and tension in the body using yarrow oil combined with herbal pouches to warm you up and replenish much-needed energy. A foot massage follows to reduce heaviness and fatigue in your feet using a combination of relaxation techniques and acupressure. Finally, a highly soothing head massage will relieve stress and racing thoughts, loosen stiff muscles in your neck and shoulders, and induce a feeling of lightness, harmony, and love.
Unique Spa Care
Each therapy is a carefully prepared ritual that takes place in one of our beautiful therapy suites using our unique MCELY BOUQUET cosmetic products. A skilled therapist will guide you towards your inner self, to the source of inner peace and beauty,
The uniqueness of the natural spa lies in the integration of its various interior and exterior spaces, whereby the entire chateau complex itself becomes one spa space. Our three spacious and original private therapeutic suites - Honey, Pearls, and Silk - offer a relaxing and inspiring environment for exceptional spa experiences. One suite is located directly in the chateau building, the second is on the top floor of the chateau tower, and the third makes its home in the chateau park in a romantic wooden building with an open fireplace. All three suites are suitable for couples' therapies. In the English park, guests can enjoy an outdoor whirlpool, a sauna house, a natural swimming lake, a multifunctional sports court, and an outdoor fitness trail.
Even children can enjoy one of our experiential therapies in the safe environment of the MCELY BOUQUET SPA under the kind care of our therapists.
Our Spa offers:
House-branded therapies inspired by the local herbal tradition
Three therapeutic suites - Pearls, Honey, and Silk - for couples' therapies
Our pure, natural MCELY BOUQUET line of cosmetics
Sauna house loosely inspired by the tradition of the Russian banja
Outdoor whirlpool adjacent to the sauna house
Naturally filtered swimming lake with pebble beach
Fitness in the park
Herbal steam bath
Day spa for guests without accommodation
Manicure and pedicure
Cosmetic skin treatments
MCELY BOUQUET
Cosmetics
In the beginning there was a woman and love ... The pure, natural organic cosmetics line was founded by the owner of Chateau Mcely, Inéz Cusumano, in 2010. From a young age, she blended her own oils and balms for her sensitive skin. When it came time to source cosmetic products for the chateau spa, she refused to compromise.
She felt she had to come up with her own brand that would be in keeping with the story of the place and the eco-friendly ethos of the chateau. She attended the perfume school in Grasse, France, immersed herself in learning about aromatherapy, discovered the local story of the healing Nine Flowers tradition, which cared for health and beauty centuries ago, and began testing her products on her family and friends. The result was the first nine products, inspired by the Mcely tradition of the Nine Flowers. This was the very beginning of MCELY BOUQUET, born alongside the MCELY BOUQUET SPA. It was a pioneering concept at the time, based on nature and the belief in and love for the powers of natural herbs. The magic number 9 is also closely associated with Mcely. In 1849, the Queen of Heaven appeared to three orphan girls in Mcely and told them nine secrets - today these Marian visions are known as the Mcely Miracle. Since its inception, the product line has grown from the original line-up of nine products to a wide range of hand-blended products for the whole body, from head to toe.
The cosmetic products are blended by hand in the chateau laboratory in small batches using only the freshest and purest chemically untreated ingredients. Their healing properties are based on rare essential oils, homemade herbal extracts, and the use of traditional alchemical methods. The cosmetics rejuvenate and heal the body, soothe the mind, and elevate the spirit.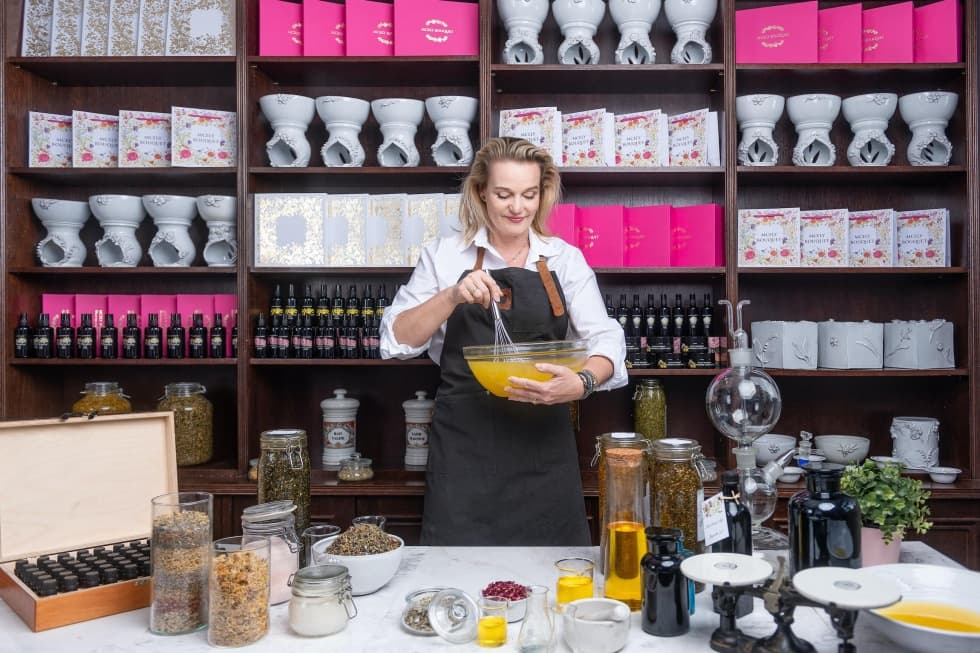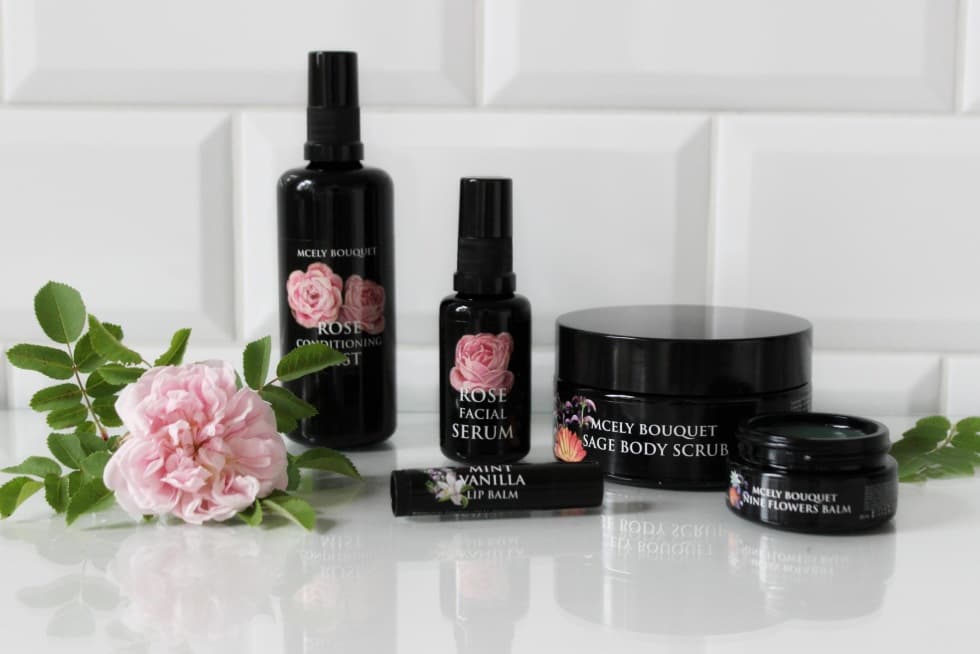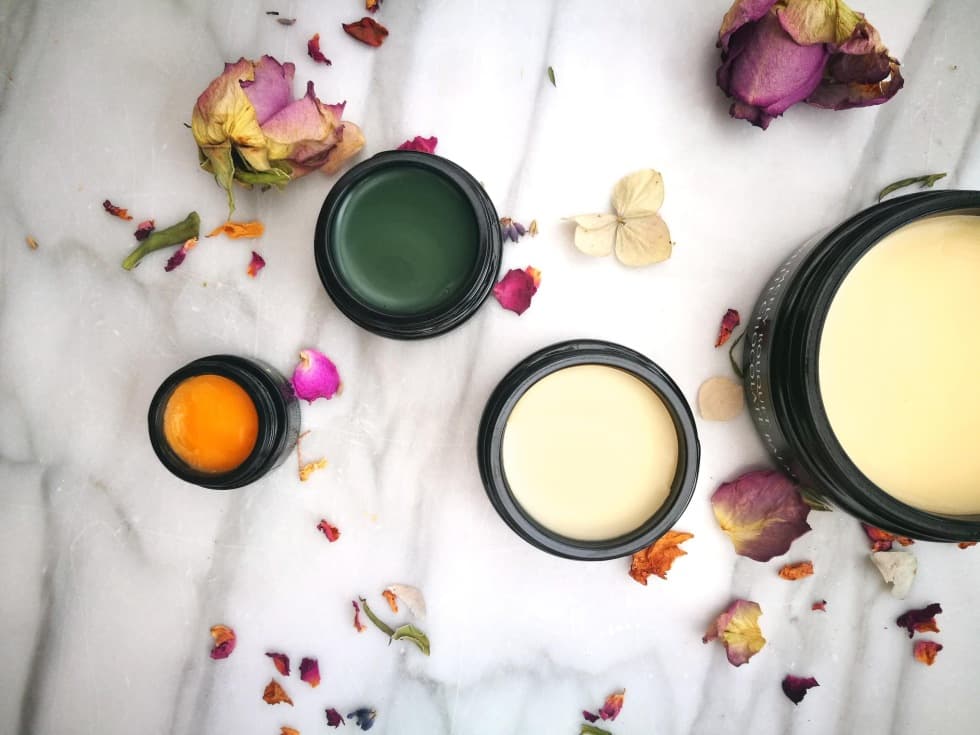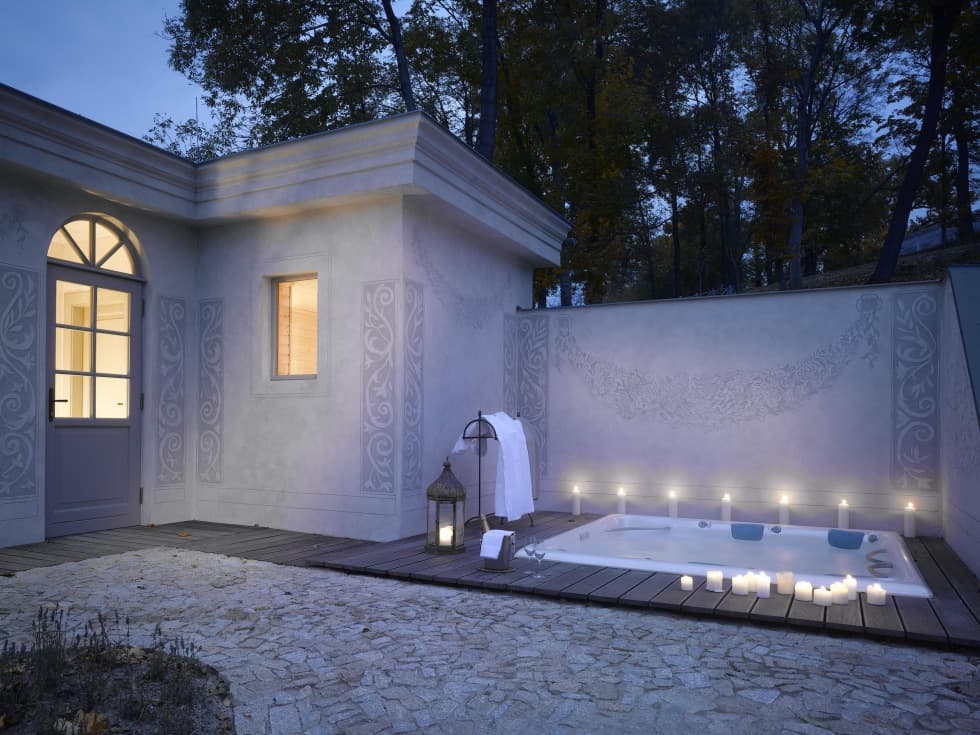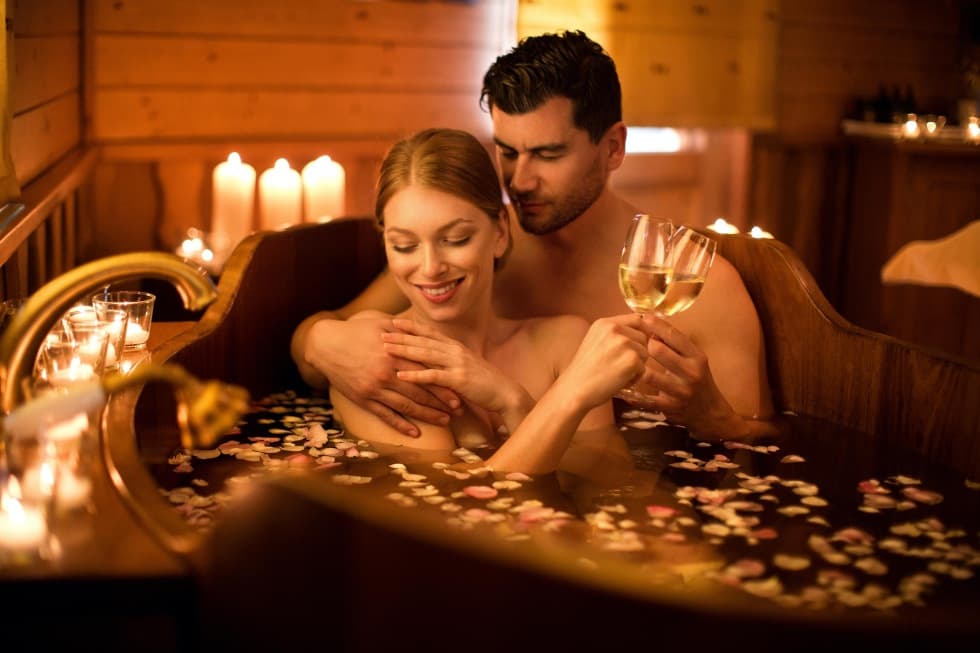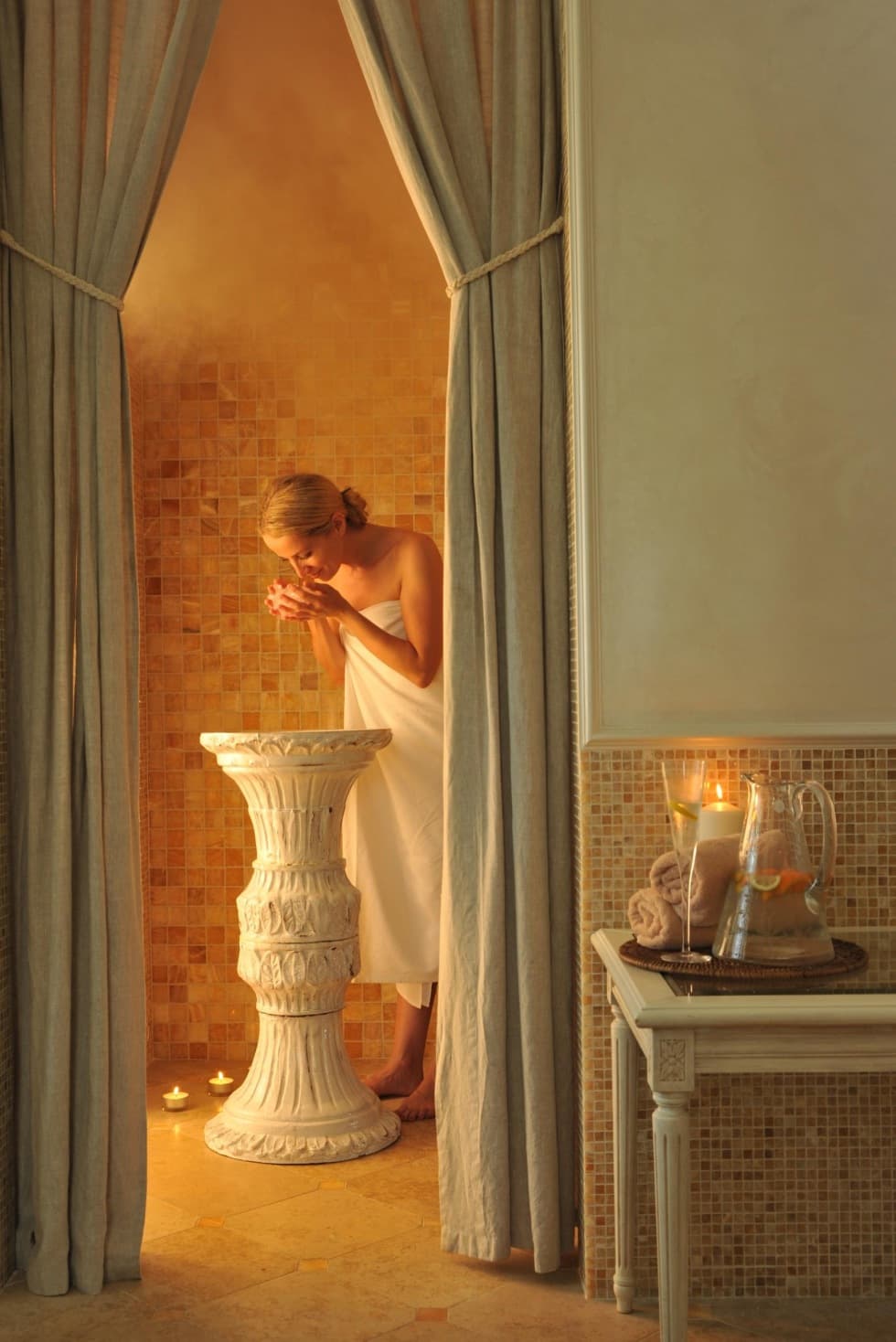 Relax in Absolute Privacy
Relax in privacy without the presence of our therapists or other guests. You can enjoy our ourdoor whirlpool and sauna. the herbal steam bath in the chateau, or enjoy one of our baths in a wooden tub in the Honey Pavilion next to the natural swimming lake. For a natural cooldown after using the sauna, you can also use our purely natural lake throughout the year. Spring swimming is also popular now that the first warmer days of spring are here.
Mcely Summer Club powered by DSQUARED2
In the heart of the chateau park, hidden between the greenery and the flowering meadow, you'll find a place for carefree summer relaxation: a natural swimming lake ringed with loungers, wooden day beds, a summer bar with Champagne Veuve Clicquot, cocktails, and handmade Lunar ice cream.The summer bar is open from the noon to 5 p.m.
Throughout the summer if the weather is good, our friendly beach girl will quietly take care of your comfort.
For maximum comfort and to ensure the calm private atmosphere of the Mcely Summer Club, it will be accessible only to accommodated guests from 3:00 PM on day of arrival until 11:00 AM on day of departure.
For a natural cooldown after using the sauna, you can also use our purely natural lake throughout the year. Spring swimming is also popular now that the first warmer days of spring are here.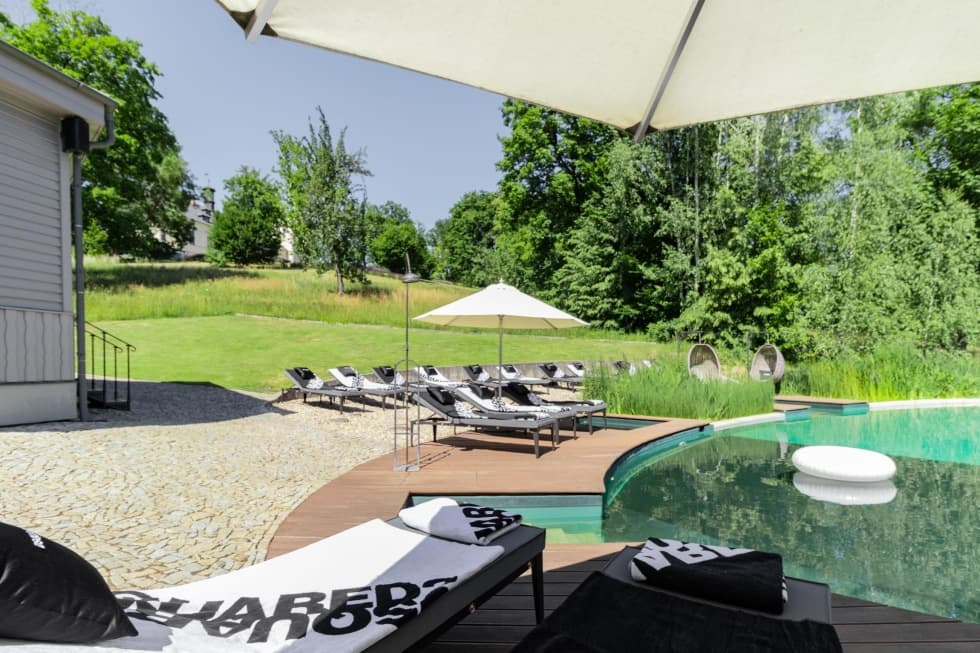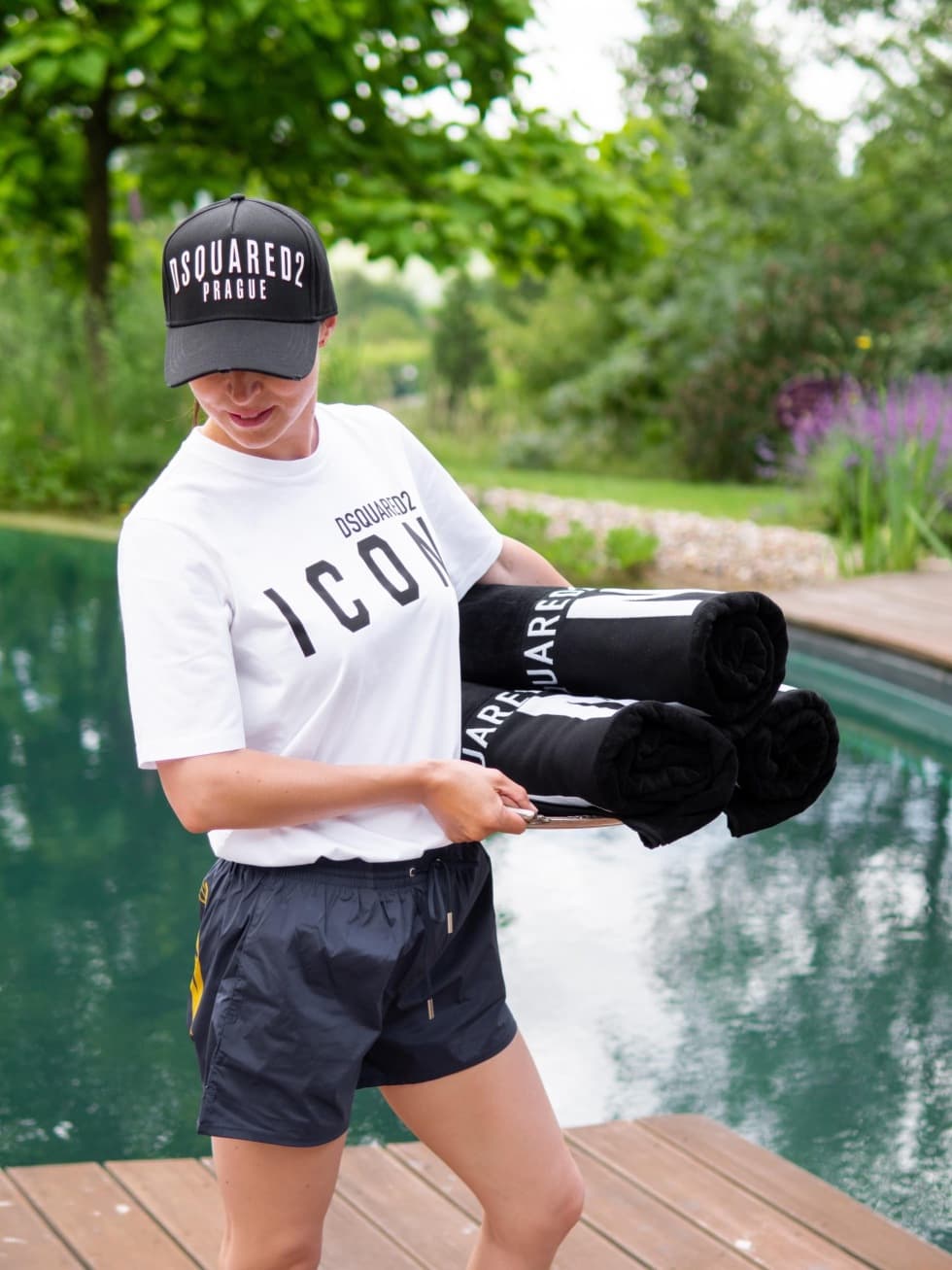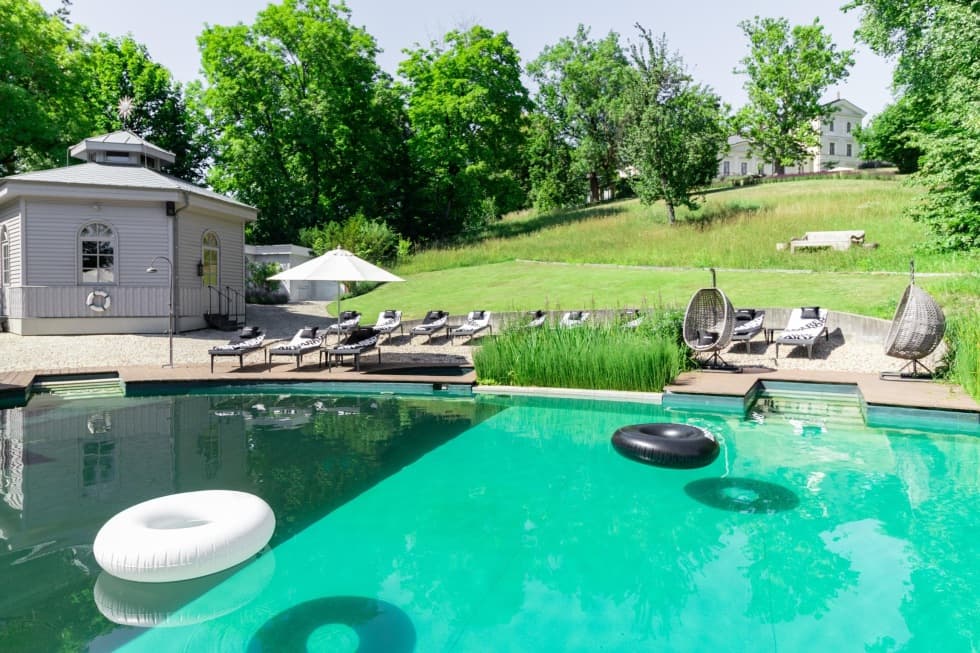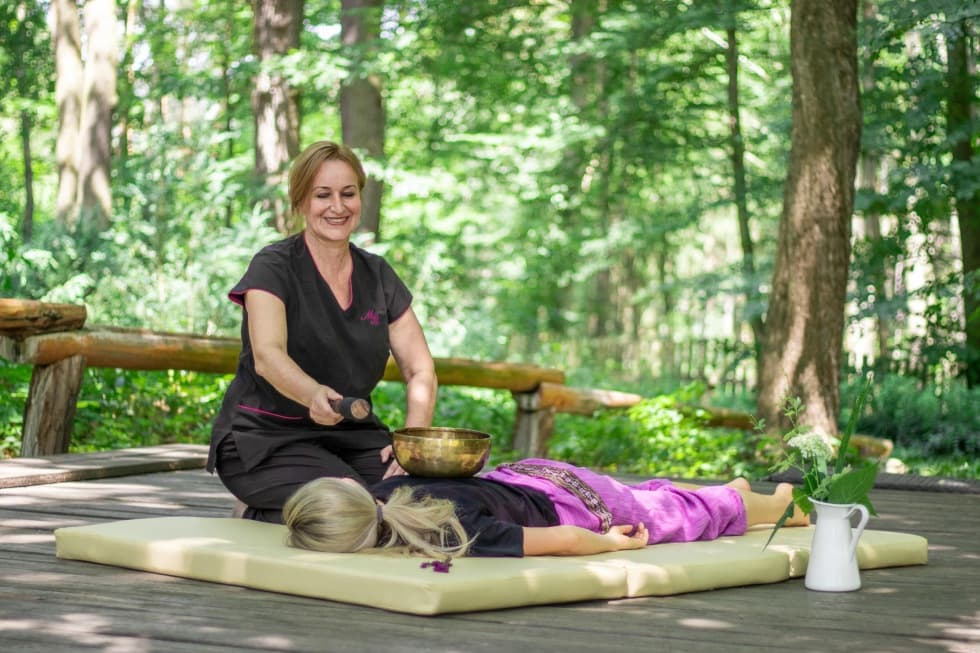 Aenean eu leo quam. Pellentesque ornare sem lacinia quam venenatis vestibulum. Nullam id dolor id nibh ultricies vehicula.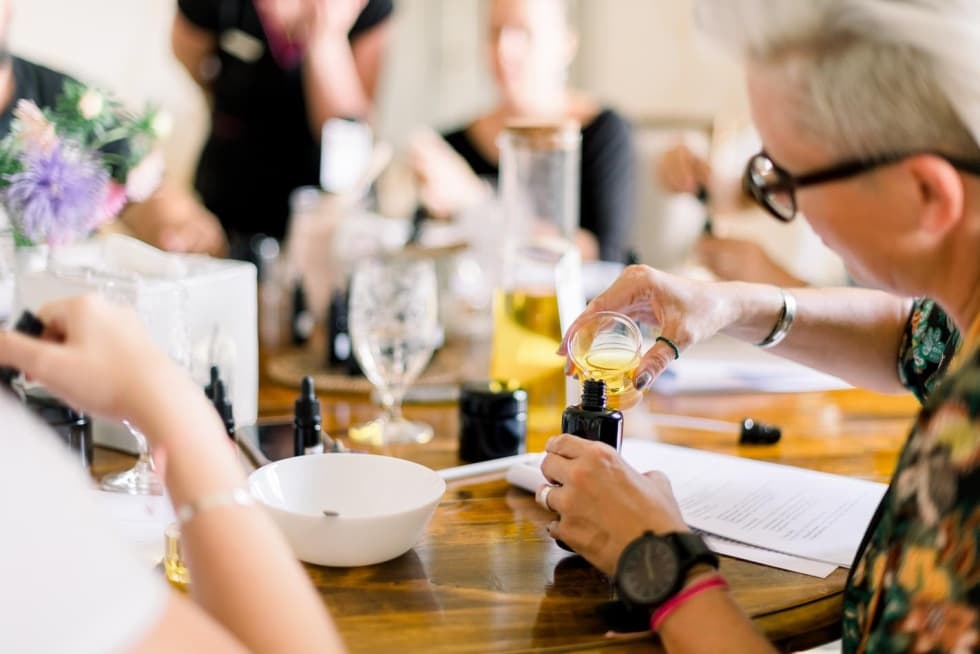 We've prepared a unique opportunity to learn how natural skincare products are made and to create the product of your choice, one that will be sure to remind you of this unforgettable experience.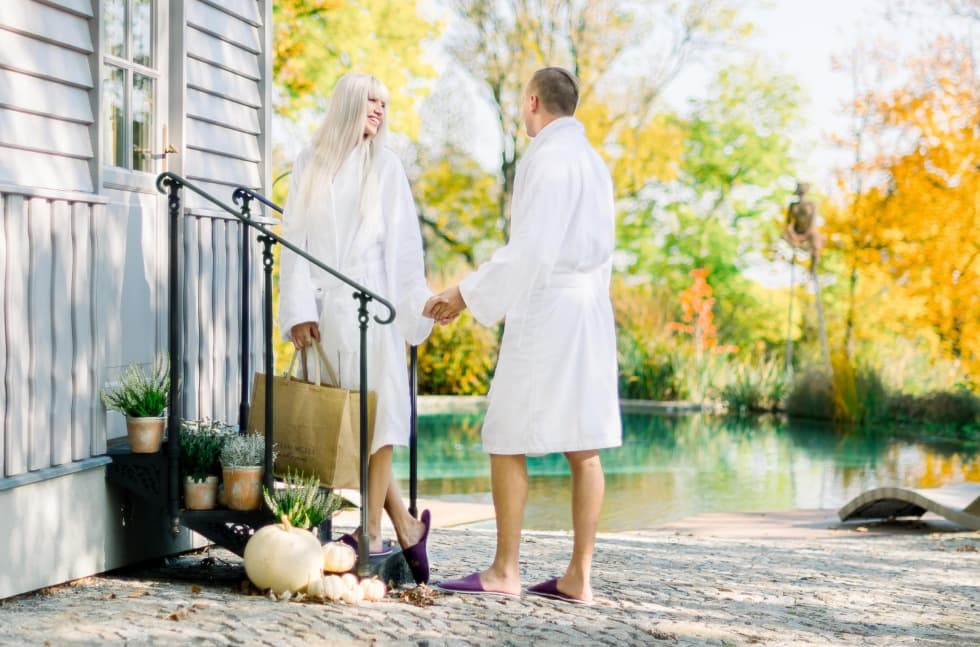 Aenean eu leo quam. Pellentesque ornare sem lacinia quam venenatis vestibulum. Nullam id dolor id nibh ultricies vehicula.