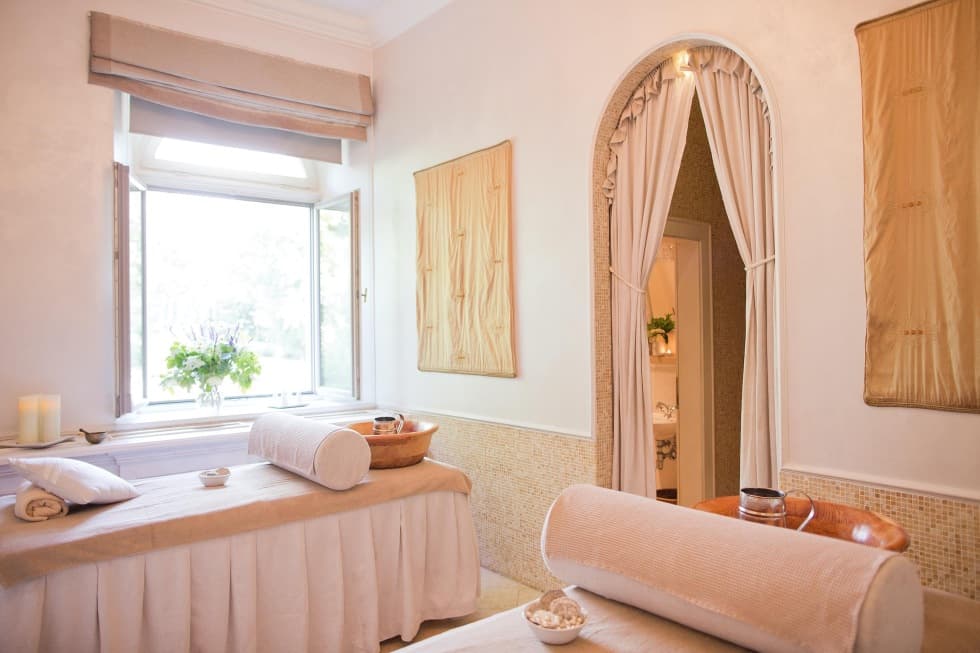 Therapy of Good
Our Linden Body Scrub, made with Himalayan salt, helps rid the body of impurities and removes natural deposits of dead skin cells. After the exfoliation, enjoy a full body massage with our new addition - Essence of Good, sister to our very popular Yarrow Bath Oil. Upon request, we can add a mini-facial at the end of the massage for a naturally beautiful, brighter and healthier face.
Available from September to November.
120 minutes - CZK 3 780
(without minifacial)
CZK 4 170 (with mini-facial) per person
MCELY BOUQUET aroma
Traditional body massage with precious massage oils. You can choose Camomile, Yarrow or Daisy from our MCELY BOUQUET cosmetics line.
60 minut - 2 590 Kč | 90 minut - 2 990 Kč
Restorative Balm Massage
Enjoy a combination of a relaxing massage with an extreme skincare with rich Melissa or sweet White Chocolate Balm to heal dry skin and skin dehydrated by the sun in summer or cold in winter.
60 minut - 2 590 Kč | 90 minut - 2 990 Kč
St. George Herbal Massage
With herbal pouches produced at the chateau from the local Nine Flowers and nourishing MCELY BOUQUET massage oils bring a deep level of relaxation to tense muscles and nerves, remove blockages, and dissolve stress.
90 minutes - CZK 2 990
Deep Tissue Back Massage
Through a combination of massage techniques unblocks stiff neck and back muscles, relieves headaches and neck pain. Strength-inducing Yarrow Oil helps the body shake off fatigue and recharges lost energy. This massage is suitable for muscle relaxation after sports or for those who work at sedentary jobs.
60 minut - 2 590 Kč
Prenatal Massage
A trained therapist will provide relief and relaxation for expectant mothers with this massage performed while lying on your side, using MCELY BOUQUET skincare products which contain no essential oils. Special attention is paid to areas of swelling and pain with the short-term goal of providing overall relief and harmonization, and the long-term goal of preventing stretch marks and maintaining firm, smooth skin.
60 minut - 2 290 Kč
Reflexology Foot Massage
A unique massage to eliminate tension and harmonizing the body by stimulating points on the soles of the feet. Reflexology points on the feet are connected with individual internal organs. By stimulating these points, the body and mind can achieve maximum relaxation. The ritual begins with a foot exfoliation, followed by a brief neck massage and an intensively relaxing foot massage, finished off with the application of our Mint Foot Relief. The entire experience is finished off with a short neck massage with Yarrow oil.
60 minut - 2 590 Kč
Signature Rituals and Rituals for Couples
Nine Flowers
Royal nine-step ritual with nine herbsTakes place in the Honey Pavilion - our all-wood spa cottage by the lake. The power of herbs, plants and rare oils used in this ritual will bring an extraordinary release to your tense body and mind, and create beautifully scented, luminous skin. A purifying Sage salt scrub and wrap rids the whole body of impurities, exhaustion and negativity. This is followed by a relaxing bath in a wooden tub with the Nine Herbs and Yarrow Bath Oil and during the winter with a view of a crackling fire in the fireplace. Your therapy will culminate in a short facial, a nourishing hair mask, and a long massage with the aromatherapy oil of your choice and herbal pouches with a mix of the local Nine Flowers.
150 minut - 5 890 Kč/osoba
Beach Goddess
Detoxifying and slimming ritual
This cleansing ritual reduces the appearance of cellulite, firms, smooths and softens the skin of your entire body. It combines the detoxifying effects of four MCELY BOUQUET products - Sage Body Peeling, brightening Calendula Body Mask, invigorating Yarrow Massage Oil and refreshing Mint Relief Balm - with MCELY BOUQUET Aroma Massage techniques and stimulating methods focusing on the problematic areas of the body affected by cellulite.
120 minut - 4 990 Kč/osoba
Melt Velvet
Sensual ritual with warm wax
This ritual starts off with a stimulating and purifying brushing with a natural bristle brush, then a wrap with our exclusive Melt Velvet aromatic wax candle, followed by a tropical Rose Conditioning Mist, a mini facial, and a full body massage with our nourishing, exotically scented Daisy Oil to give you an emotional experience for body and soul, as well as unusually smooth, fragrant and deeply regenerated skin.
120 minut - 4 990 Kč/osoba
Rose is a rose
Rejuvenating and uplifting ritual
Mcely has a long tradition of growing roses. The Mcely rose has always been extremely fragrant. You can recognize her in the park today by her typical violet color. Among the MCELY BOUQUET flowers, the rose holds an absolutely privileged position. It is known for its rejuvenating and anti-depressant effects, and so our rose ritual is inspired by this queen of flowers. After a cleansing rose full-body exfoliation that will leave your skin smooth, firm and radiant, you'll be wrapped like a baby bunting and enjoy a short facial. After a shower you'll experience deep relaxation with a full body application of our nourishing Melissa Balm containing rose and chamomile.
90 minut - 3 390 Kč/osoba
Poppy Dreams
Ritual for deep sleep & silky smooth skin
A unique, locally inspired poppy seed therapy, apparently the only one of its kind in the world. Gentle poppy seed peeling with approximately 230,000 poppy seeds, followed by a wrap will smooth the skin and deeply relax your whole body and mind. A Daisy Oil massage nourishes and softens your skin. The ritual will calm your nervous system, prepare you for undisturbed sleep and leave your skin silky smooth and soft.
150 minut - 5 590 Kč/osoba
Mcely Elixir of Love
The common experience of deep relaxation and the enjoyment of healing touch you in a beautiful setting with your partner close by and help establish a more intimate relationship. Rare essential oils create an atmosphere that calms and scents your body. The therapy includes a shared bath in a wooden tub or in a steam bath, a smoothing peeling, a nourishing relaxation massage, a body wrap and facial treatment. Regenerating MCELY BOUQUET products with herbal extracts perfectly purify, nourish and soften your skin.
150 minut - 10 990 Kč pro dvě osoby
Gourmet Harmony
This sensual ritual provides not only fragrant silky skin and deep relaxation from everyday worries, but also an almost gourmet aromatic experience with the application of three MCELY BOUQUET products – Tangerine Candy Peeling, Melt Velvet massage candle scented with vanilla, and White Chocolate Balm. The therapy also includes a couple's bath in the wooden tub or in a steam bath, accompanied by a glass of Prosecco.
120 minut - 10 590 Kč pro dvě osoby
Face & Hair, Hands & Feets Care
Mcely Glow
Perfect skin care with MCELY BOUQUET products is a very effective way to achieve deep skin regeneration, improve its elasticity, radiance and smoothness. All variations include a thorough cleansing, peeling, massage, mask and hydration and application of new product Herbal Divine Cream with face roller. It helps to stimulate lymphatic flow and relax tense facial muscles. The result of this treatment is not only smooth and soft skin, but also a rested mind. The 90-minute version includes an extended facial massage plus a hand wrap. The therapy also includes John's wort hair wrap.
60 minut - 2 590 Kč | 90 minut - 2 990 Kč
Herbal Wild Thyme Manicure
Combines regular maintenance of your hands with a fragrant herbal ritual. In addition to a purifying Sage Peeling that smooths your hands perfectly, you will experience a beneficial wrap and hand massage with regenerating Wild Thyme Balm.
60 minut - 1 790 Kč
Royal Manicure With Warm Wax
Treat your hands to an exceptional ritual worthy of the royal family. For well-cared, smooth, soft hands you will enjoy such pleasures as: Tangerine Candy Peeling with honey, wrap with fragrant Melt Velvet massage candle and a White Chocolate Balm massage. Finally, we'll paint your nails.
90 minut - 2 090 Kč
Mint Relief Spa Pedicure
The combination of a footbath, a relaxing foot massage, the intensive nourishment of refreshing Mint Balm, removal of rough skin with a pumice stone, and a beneficial wrap will leave you feeling like you are floating on air. During the 90-minute version, you'll also enjoy a pressure point foot massage to melt away any aches and pains, followed by application of nail polish.
60 minut - 1 790 Kč | 90 minut - 2 090 Kč
Add on Therapies & Peeling
Scalp Massage with a St. John's Wort Hair Wrap
A nourishing hair wrap of jojoba oil, extract of local St. John's Wort, and a powerful blend of nine rare essential oils has unique moisturizing and regenerating effects. Suitable for all hair types. The wrap begins with pouring hot oil on your third eye and continues with a relaxing head massage.
V průběhu terapie - 290 Kč
30 minut navíc - 690 Kč
Face, Neck and Décolleté Treatment
Complete care for the face, neck and décolleté using a smoothing and healing Rosehip Honey Peeling, a cleansing and brightening Calendula Mask, and a facial massage with nourishing Melissa Balm to rejuvenate your skin and bring you deeper relaxation.
V průběhu terapie - 390 Kč
30 minut navíc - 890 Kč
Anti-Stress Head & Face Massage
A gentle, relaxing way to reduce stress and tension. It's an excellent way to relax the muscles of the neck and shoulders and leads to a feeling of lightness. The massage stimulates the body's energy centers, inducing a sense of overall balance.
V průběhu terapie - 290 Kč
30 minut navíc - 690 Kč
Relaxation Foot Massage
This massage is ideal for eliminating the feeling of heaviness and tiredness in the feet and legs after a long day. Using a combination of relaxation techniques and acupressure, it has a positive stress relieving effect and improves psychological well-being.
V průběhu terapie - 290 Kč
30 minut navíc - 690 Kč
Purifying Body Peeling
Removes the natural buildup of dead skin cells that make skin appear tired. Increases the effectiveness of the subsequent massage. You can choose between Sage salt or Tangerine sugar, or a neutral salt peeling without essential oils for prenatal massage.
30 minut navíc - 790 Kč
MCELY BOUQUET Body Peeling
A full body cleansing peeling removes the natural buildup of dead skin cells and instantly heals tired looking skin. This therapy consists of a whole body peeling, a shower, and anointment using your chosen MCELY BOUQUET moisturizing product. We offer the following options: Stimulating and detoxifying - Sage Body Srub with hydrating Yarrow Oil. Soothing and nourishing - Tangerine Candy Srub with hydrating Chocolate Balm. Regenerating for allergy sufferers or during pregnancy- neutral salt peeling with neutral hydrating oil.
60 minut - od 2 190 Kč
Spa Treatments for Children and Teenagers
Princess Makeover
Every little girl's dream come true, including the use of a princess dress. We start off with a Tangerine Scrub for prancing little feet, followed by a soothing Chamomile Oil massage. The chateau fairy will then transform your child into a princess with glittery nail polish, a little nose powdering, and a princess hairstyle.
60 minut - 2 190 Kč
Praline's Chocolate Dream
A massage experience for young chocolate lovers. It starts off with a nice cup of hot chocolate while enjoying a Tangerine Candy foot scrub. This is followed by an aromatic massage with nourishing White Chocolate Balm to help calm every little fidgety bit in your body. Your skin will be as silky smooth as cheetah Praline's fur.
30 minut - 1 090 Kč | 60 minut - 2 090 Kč
Tangerine & Chamomile
Calms and eases overactive minds and sports-weary bodies. Our wonderful Royal Herbal Spritz calms racing thoughts; a foot massage with Tangerine Candy Peeling relieves tired feet; and a back, shoulder and neck massage with fragrant Chamomile Oil washes away muscle and mental tension. To finish, the prince or princess help prepare their own bath oil mixture for strengthening courage.
30 minut - 1 090 Kč | 60 minut - 2 090 Kč
Angelic Harmony
A shared massage experience for a child and a parent: mom or dad can enjoy a MCELY BOUQUET Aroma Massage and your child can choose either a yummy Praline's Chocolate Dream massage or Ms. Tangerine & Mr. Chamomile - soothing aromatherapy with nourishing Chamomile Oil.
60 minut - 4 490 Kč dítě s rodičem
Soothing Massage for Babies
Under the guidance of an experienced therapist, you'll learn to expertly pamper your baby with our soothing light massage oil without essential oils. This massage will give you inspiration for an evening bath ritual at home.
30 minut - 1 090 Kč
Clear & Cool Face
Treatment for a naturally beautiful, brighter and healthier face based on your skin type, using pure natural MCELY BOUQUET products in six steps: cleansing, moisturizing, gentle exfoliation, massage, mask and final nourishment.
60 minut - 2 190 Kč
Chill Out Massage
During this full body aroma massage, it'll be easy to forget your problems at school or with dating. Eases muscle and mental tension, leaving skin silky smooth. If you wish, you can bring your iPod, relax and enjoy your own music.
60 minut - 2 190 Kč
Private Use of Wellness Area
Herbal Steam Bath
The herb steam bath improves your general health condition. It removes toxins from your body, relaxes muscles, improves blood circulation and lowers stress as the scent of the local Nine Flowers calms your mind. This is also suitable as a separate procedure or as a pleasant beginning before other massages.
60 minut - 300 Kč / 2 osoby
Sauna and Jacuzzi
Time spent in the romantic outdoor sauna and neighbouring outdoor Jacuzzi in the Chateau Park is an unforgettable experience. Submerge into hot bubbling water and feast your eyes on the beauty of nature, or in the evening, gaze at the stars by candlelight. Warm up on spacious sauna benches, then cool down in the natural swimming lake.
60 minut - 400 Kč / osoba
Mcely Couple's Bath
Leave all your worries behind and just enjoy some quality time together. Immerse yourself in our wooden tub with crystal-clear warm water strewn with rose petals in the Honey Pavilion in the middle of the English park. You will be accompanied by the intoxicating scent of the local Nine Flowers herbs, precious essential oils, and fresh roses. As the queen of flowers, roses have aphrodisiac and antidepressant effects, beneficial effects for your skin, and its fragrance opens your heart and positively influences your mood. Enjoy the ritual of the bath, simply being together, the warmth of the flickering fire, the soft candlelight, soothing music, and a bottle of Prosecco. This bath is available from 9 p.m.
to midnight. Please book at least one day
in advance. Thank you.
60 minut - 1 950 Kč / 2 osoby
Princess Almeria's Bath
Enjoy undisturbed relaxation in the absolute peace and quiet of the Honey Pavilion in the middle of the English park. Become a princess for a little while and plunge into the warmth of a large wooden tub surrounded by the intoxicating scent of herbs, soft music, and a flickering fire in the fireplace. A gentle scrub with an all-natural washcloth helps stimulate circulation and eliminate dead skin cells. Special bath salts soften and hydrate your entire body. An hour spent in our tub cleanses not only your body, but also your mind and spirit.
This bath is available from 9 p.m.
to midnight.
60 minut - 1 350 Kč / 1 osoba
60 minut - 1 950 Kč / 2 osoby