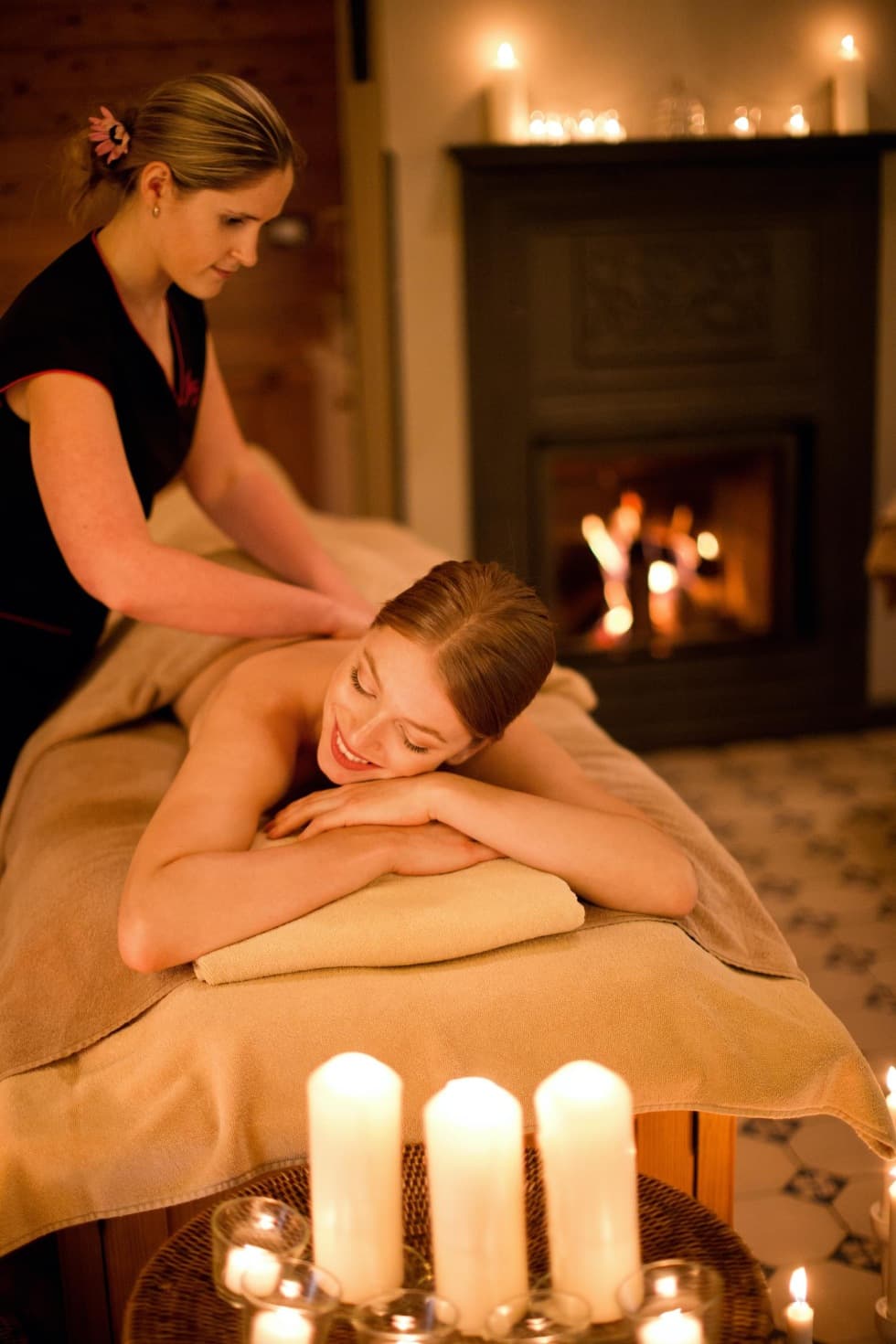 MCELY BOUQUET SPA Treatments
When can you visit the Spa?
From 8:00 a.m. to 8:00 p.m. only with prior booking.
Spa procedures may be booked without acccommodation.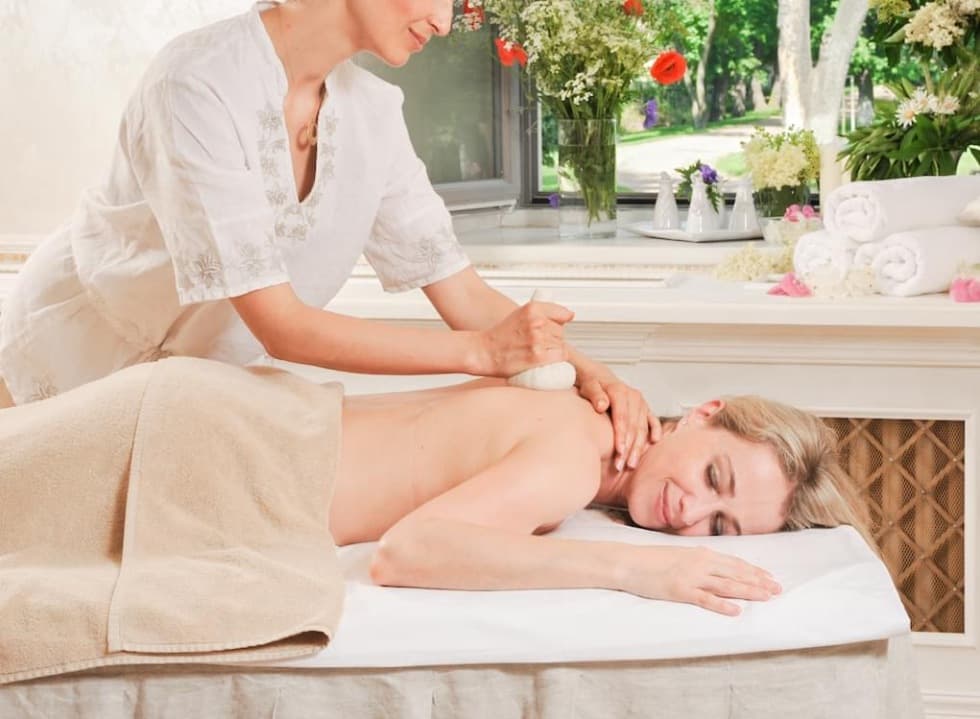 Seasonal Offers
"Beach Body" Ritual
Limited Summer Promotion.
Our Sage Body Scrub, made with Himalayan salt, helps rid the body of impurities and removes natural deposits of dead skin cells. During the exfoliating detoxification, enjoy an anti-stress massage of your scalp and face, which helps rid the body of excess tension. After the exfoliation, enjoy a full body hydration with our nourishing Melissa Body Balm made with shea butter and rare essential oils.

90 minutes – CZK 3,690
Available from June 1 to August 31, 2023.
MCELY BOUQUET aroma
Body massage with precious massage oils from our
MCELY BOUQUET cosmetic collection (Camomile Oil, Yarrow Oil or Daisy Oil).
60 minutes - CZK 2 990 | 90 minutes - CZK 3 690
Restorative Balm Massage
Enjoy a combination of a relaxing massage with an extreme skincare with Melissa or White Chocolate Balm to heal dry skin and skin dehydrated by the sun or cold.
60 minutes - CZK 2 990 | 90 minutes - CZK 3 690
Deep Tissue Back Massage
Through a combination of massage techniques our therapist unblocks stiff neck and back muscles, relieves headaches and neck pain.
Strength-inducing Yarrow Oil helps the body shake off fatigue and recharges lost energy. This massage is suitable for muscle relaxation after sports or for those who work at sedentary jobs.
Prenatal Massage
Relief and relaxation for expectant mothers performed while lying on your side, using MCELY BOUQUET skincare products which contain no essential oils.
Special attention is paid to areas of swelling and pain with the short-term goal of providing overall relief and harmonization, and the long-term goal of preventing stretch marks and maintaining firm, smooth skin.
60 minutes - CZK 2 990
Reflexology Foot Massage
A unique massage to eliminate tension and harmonizing the body by stimulating points on the soles of the feet and a short neck massage with Yarrow oil.
Reflexology points on the feet are connected with individual internal organs. By stimulating these points, the body and mind can achieve maximum relaxation. The ritual begins with a foot exfoliation, followed by a brief neck massage and an intensively relaxing foot massage, finished off with the application of our Mint Foot Relief. The entire experience is finished off with a short neck massage with Yarrow oil.
60 minutes - CZK 2 990
St. George Herbal Massage
With herbal pouches produced at the chateau from the local Nine Flowers and nourishing organic MCELY BOUQUET massage oils.
It brings a deep level of relaxation to tense muscles and nerves, remove blockages, and dissolve stress.
90 minutes - CZK 3 690
Signature rituals and rituals for two
Nine Flowers
The power of herbs, plants and rare oils used in this ritual will bring an extraordinary release to your tense body and mind, and create beautifully scented, luminous skin.
Royal nine-step ritual with nine herbs
A purifying Sage salt scrub and wrap rids the whole body of impurities, exhaustion and negativity. This is followed by a relaxing bath in a wooden tub with the Nine Herbs and Yarrow Bath Oil and during the winter with a view of a crackling fire in the fireplace. Your therapy will culminate in a short facial, a nourishing hair mask, and a long massage with the aromatherapy oil of your choice and herbal pouches with a mix of the local Nine Flowers.
It takes place in the Honey Pavilion or in the Pearls SPA apartment with steam room.
150 minutes - CZK 5 990/per person
Beach Goddess Ritual
Detoxifying and slimming ritual. This cleansing ritual reduces the appearance of cellulite, firms, smooths and softens the skin of your entire body.
It combines the detoxifying effects of four MCELY BOUQUET products - Sage Body Peeling, brightening Calendula Body Mask, invigorating Yarrow Massage Oil and refreshing Mint Relief Balm - with MCELY BOUQUET Aroma Massage techniques and stimulating methods focusing on the problematic areas of the body affected by cellulite.
120 minutes - CZK 4 990/per person
Melt Velvet
Sensual ritual with warm wax. This ritual starts off with a stimulating and purifying brushing with a natural bristle brush, then a wrap with Melt Velvet aromatic wax candle.
Followed by a tropical Rose Conditioning Mist, a mini facial, and a full body massage with our nourishing, exotically scented Daisy Oil to give you an emotional experience for body and soul, as well as unusually smooth, fragrant and deeply regenerated skin.
120 minutes - CZK 4 990/per person
Rose is a Rose
Rejuvenating and uplifting ritual. Among the MCELY
BOUQUET flowers, the rose holds an absolutely privileged
position.
Mcely has a long tradition of growing roses. The Mcely rose has always been extremely fragrant. You can recognize her in the park today by her typical violet color. It is known for its rejuvenating and anti-depressant effects, and so our rose ritual is inspired by this queen of flowers. After a cleansing rose full-body exfoliation that will leave your skin smooth, firm and radiant, you'll be wrapped like a baby bunting and enjoy a short facial. After a shower you'll experience deep relaxation with a full body application of our nourishing Melissa Balm containing rose and chamomile.
90 minutes - CZK 3 890/per person
Poppy Dreams
Ritual for deep sleep and silky smooth skin. A unique, locally inspired poppyseed therapy, apparently the
only one of its kind in the world.
Gentle poppy seed peeling with approximately 230,000 poppy seeds, followed by a wrap will smooth the skin and deeply relax your whole body and mind. A Daisy Oil massage nourishes and softens your skin. The ritual will calm your nervous system, prepare you for undisturbed sleep and leave your skin silky smooth and soft.
150 minutes - CZK 5 990/per person
Mcely Harmonizing Herbal Therapy
A very individually focused therapy tailored to your needs and mood based on a combination of the best of traditional Czech herbalism, Ayurveda, and Chinese medicine to restore harmony of body, mind, and soul.
We ask you to fill in a personal questionnaire in advance to help us choose the best possible combination of massage techniques for you and for the moment. During the initial exfoliation and foot bath and at the end of the treatment, you'll enjoy a cup of herbal tea of your choice. You can also create your own massage oil blend from a trio of recommended essential oils. High-quality plant oils with well-chosen essences in combination with natural MCELY BOUQUET products provide your skin and your senses with perfect nourishment. Enjoy a long oil massage tailored to your needs, complemented by warming herbal pouches and a short facial. We can also incorporate additional steps into the therapy for a more intense experience and to increase your harmony.
The therapy is not intended to be a curative. If you are interested, we will be happy to tailor a complete one-day or multi-day experience including balanced healthy meals.
120 minutes - CZK 5 990
Mcely Elixir of Love
The common experience of deep relaxation and the enjoyment of healing touch you with your partner close by and help establish a more intimate relationship.
Rare essential oils create an atmosphere that calms and scents your body. The therapy includes a shared bath in a wooden tub or in a steam bath, a smoothing peeling, a nourishing relaxation
massage, a body wrap and facial treatment. Regenerating MCELY BOUQUET products with herbal extracts perfectly purify, nourish and soften your skin.
150 minutes - CZK 10 990/for two
Gourmet Harmony
This sensual ritual provides not only fragrant silky skin and deep relaxation from everyday worries, but also an almost gourmet aromatic experience.
With the application of three MCELY BOUQUET products – Tangerine Candy Peeling, Melt Velvet massage candle scented with vanilla, and White Chocolate Balm. The therapy also includes a couple's bath in the wooden tub or steam bath, accompanied by a glass of Prosecco.
120 minutes - CZK 10 690/for two
Facial Treatments, Hands and Feet Care
Facial Treatment "Mcely Glow"
Perfect skin care with MCELY BOUQUET products is
a very effective way to achieve deep skin regeneration,
improve its elasticity, radiance and smoothness.
All variations include a thorough cleansing, peeling,
massage, mask and hydration and hair wrap, always using products suitable for your skin type. It helps to stimulate lymphatic flow and relax tense facial muscles. The result of this treatment is not only smooth and soft skin, but also a rested mind. The 90-minute version includes an extended facial massage plus a hand wrap.
60 minutes - CZK 3 190 | 90 minutes - CZK 3 790
Herbal Wild Thyme Manicure
Enjoy relaxation combined with hand care for velvety soft caresses. Combine care of your hands with a fragrant herbal ritual for a perfect appearance.
In addition to a cleansing sage scrub to smooth your hands, experience a beneficial wrap, and a hand massage with Wild Thyme Balm.
60 minutes - CZK 2 290
Royal Manicure with Warm Wax
For well-cared, smooth hands, enjoy the exfoliation with Tangerine Candy Scrub, a wrap with our Melt Velvet massage candle, and a White Chocolate Balm massage.
Treat your hands to an exceptional ritual worthy of our aristocratic ancestors. Finally, we'll paint your nails with your chosen shade of Sparitual vegan nail polish.
90 minutes - CZK 2 790
Mint Relief Spa Pedicure
The combination of a footbath, a foot massage, the nourishment of Mint Balm, removal of rough skin with a pumice stone, and a wrap.
During the 90-minute version, you'll also enjoy a pressure point foot massage to melt away any aches and pains, followed by application of nail polish.
60 minutes - CZK 2 290 | 90 minutes - CZK 2 790
Hands And Feet Tandem Care
Regular care for beautiful hands and feet can be timeconsuming. So we created a unique mani-pedi, in which two therapists will take care of you at the same time.
One will look after your hands, the other will look after your feet. It begins with a nail treatment, followed by exfoliation to smooth the skin on your hands and feet, a relaxing massage, and a wrap for added softness and silkiness. Now you can give silky caresses, slide into strappy sandals, and enjoy the look of beautifully cared-for hands and feet.
A perfect balance of two therapies for silky hands and feet.
90 minutes - CZK 5 350
We would like to inform you that we use only natural vegan nail polishes Sparitual that are kind to your nails and the environment. Please note that our offer does not include French manicures, gel polish, or shellac. Thank you!
Add on Therapies & Body peeling
Scalp Massage With Hair
Wrap
A nourishing hair wrap of jojoba oil, extract of local St. John's Wort, and a powerful blend of nine rare essential oils has unique moisturizing and regenerating effects. Suitable for all hair types.
During your therapy - CZK 690
30 minutes extra - CZK 1 190
Face, Neck And Décolleté Treatment
Complete care for the face, neck and décolleté using a smoothing Rosehip Honey Peeling, a cleansing Calendula Mask, and a facial massage with nourishing Melissa Balm to rejuvenate your skin and bring you deeper relaxation.
During your therapy - CZK 690
30 minutes exrta - CZK 1 190
Anti-Stress Head And Face Massage
A gentle, relaxing way to reduce stress. It's an excellent way to relax the muscles of the neck and shoulders. The massage stimulates the body's energy centers, inducing a sense of overall balance.
During your therapy - CZK 490
30 minutes extra - CZK 990
Relaxation Foot Massage
This massage is ideal for eliminating the feeling of heaviness and tiredness in the feet and legs.
Using a combination of relaxation techniques and acupressure, it has a positive stress relieving effect and improves psychological well-being.
During your therapy - CZK 490
30 minutes extra - CZK 990
Purifying Body Peeling
This add-on version of the peeling can be performed only in conjunction with a body massage.
It increases the effectiveness of the subsequent massage.
30 minutes extra - CZK 1 190
MCELY BOUQUET peeling
A full body cleansing peeling removes the natural buildup
of dead skin cells and instantly heals tired looking skin.
This therapy consists of a whole body peeling, a shower, and anointment using your chosen MCELY BOUQUET moisturizing product. We offer the following options:

Stimulating and detoxifying - Sage Body Scrub
with hydrating Yarrow Oil.

Soothing and nourishing - Tangerine Candy Scrub
with hydrating Chocolate Balm.

Regenerating for allergy sufferers or during pregnancy - neutral salt Scrub with neutral hydrating oil.
60 minutes - from CZK 2 590
Treatments for Childrens and Teenagers
Princess Makeover
Every little girl's dream come true, including the use of a princess dress. We start off with a Tangerine Scrub for prancing little feet, followed by a Chamomile Oil massage.
The chateau fairy will then transform your child into a princess with glittery nail polish, a little nose powdering, and a princess hairstyle.
60 minutes - CZK 2 690
Praline's Chocolate Dream
A massage experience for young chocolate lovers. It starts off with a nice cup of hot chocolate while enjoying a Tangerine Candy foot scrub.
This is followed by an aromatic massage with nourishing White Chocolate Balm to help calm every little fidgety bit in your body. Your skin will be as silky smooth as cheetah Praline's fur.
30 minutes - CZK 1 490 | 60 minutes - CZK 2 490
Ms. Tangerine & Mr. Chamomile
Calms and eases overactive minds and sports-weary bodies. To finish, the prince or princess help prepare their own bath oil mixture for strengthening courage
Our wonderful Royal Herbal Spritz calms racing thoughts; a foot massage with Tangerine Candy Peeling relieves tired feet; and a back, shoulder and neck massage with fragrant Chamomile Oil washes away muscle and mental tension.
30 minutes - CZK 1 490 | 60 minutes - CZK 2 490
Angelic Harmony
Mom or dad can enjoy a MCELY BOUQUET Aroma Massage and your child can choose either a yummy Praline's Chocolate Dream massage or Ms. Tangerine & Mr. Chamomile.
60 minutes - CZK 4 990 for baby and parent
Soothing Massage for Babies
Under the guidance of an experienced therapist, you'll learn to expertly pamper your baby with our soothing light massage oil without essential oils. This massage will give you inspiration for a ritual at home.
30 minutes - CZK 1 190
Clear and Cool Face
Treatment for a naturally beautiful, brighter and healthier face based on your skin type, using pure natural MCELY BOUQUET products in six steps: cleansing, moisturizing, gentle exfoliation, massage, mask and final nourishment.
60 minutes - CZK 2 690
Chill Out Massage
During this full body aroma massage, it'll be easy to forget
your problems at school or with dating. Eases muscle and
mental tension, leaving skin silky smooth. If you wish, you can bring your iPod, relax and enjoy your own music.
60 minutes - CZK 2 690
Private Use of Wellness Area
Herbal Steam Bath
The herb steam bath improves your general health condition. It removes toxins from your body, relaxes muscles, improves blood circulation and lowers stress.
This is also suitable as a separate procedure or as a pleasant beginning before other massages.
60 minutes - CZK 300/2 persons
Sauna and Jacuzzi
The sauna and whirlpool are available free of charge to accommodated guests from 9:00 AM to 5:00 PM (one-hour time slots) only with advance booking.
Submerge into hot bubbling water and feast your eyes on the beauty of nature, or in the evening, gaze at the stars by candlelight. Warm up on spacious sauna benches, then cool down in the natural swimming lake.
For a natural cooldown after using the sauna, you can also use our purely natural lake throughout the year. Spring swimming is also popular now that the first warmer days of spring are here.
60 minutes - CZK 400/per person
Mcely's Bath of Love
Leave all your worries behind and just enjoy some quality time together. Immerse yourself in our wooden tub with crystal-clear warm water strewn with rose petals.
You will be accompanied by the intoxicating scent of the local Nine Flowers herbs, precious essential oils, and fresh roses. As the queen of flowers, roses have aphrodisiac and antidepressant effects, beneficial effects for your skin, and its fragrance opens your heart and positively influences your mood. Enjoy the ritual of the bath, simply being together, the warmth of the flickering fire, the soft candlelight, soothing music, and a bottle of Prosecco. This bath is available from 8 p.m.to midnight. Please book at least one day in advance.
60 minutes - CZK 1 950/2 persons
Princess Almeria's Bath
Enjoy undisturbed relaxation in the absolute peace and quiet of the Honey Pavilion in the middle of the English park.
Become a princess for a little while and plunge into the warmth of a large wooden tub surrounded by the intoxicating scent of herbs, soft music, and a flickering fire in the fireplace. A gentle scrub with an all-natural washcloth helps stimulate circulation and eliminate dead skin cells. Special bath salts soften and hydrate your entire body. An hour spent in our tub cleanses not only your body, but also your mind and spirit. This bath is available from 8 p.m. to midnight.
60 minutes - CZK 1 350/per person
60 minutes - CZK 1 950/2 persons
Workshops Filled with Fragrances & Herbs
Natural Skincare Blending Class
Learn more about the principles of producing natural cosmetics and their beneficial effects on our bodies, minds, and souls.
Presentation on essential oils, their uniqueness and effect, and their importance in the production of skincare products.
Comparison of living ingredients with the essential oils made from them
Selection of your own combination of essential oils to make your own unique aromatherapy products.
Production of a natural product by hand using your selected essential oils in combination with other chosen ingredients. You will be able to take the product home with you and use it to uplift your body, mind and soul whenever you feel the need to do so.
60 minutes - CZK 2 590/per person
Natural Perfume Blending Class
We'll guide you through the fragrant world of perfumes, their history, and introduce you to the process of creating your own personal product.
Explanation of the difference between perfume and eau de toilette, familiarization with the individual components of perfumes.
Introduction of aromatherapy and essential oils, their therapeutic effects on our organism, and an explanation of their importance in the production of perfumes.
Creation of a natural perfume by hand, on the basis of knowledge gained during the class. You can then take your personalized perfume home in a convenient package and use it every day to take the fullest advantage of its positive effects.
60 minutes - CZK 2 590/per person
Scents Course
Essential oils and simple olfactory exercises will help you train your sense of smell at home.

Smell as the oldest human sense and its importance for our perception
Olfactory function, disease prevention, and post-covid care using essential oils as holistic methods
Get to know yourself with simple olfactory exercises
Production of an aromatic inhalation stick for everyday use
Learn why the sense of smell is so indispensable and how to keep it in top shape. Essential oils and simple olfactory exercises will help you train your sense of smell effectively, even at home. By determining which individual scents you prefer, you'll also reveal your strengths and weaknesses. Finally, you'll make a practical inhalation stick for everyday use, which will help you remain calm in difficult situations and promote a good mood thanks to its beneficial aromas.
90 minutes - CZK 2 590/per person
Special offer available when booking a course for more than one person.