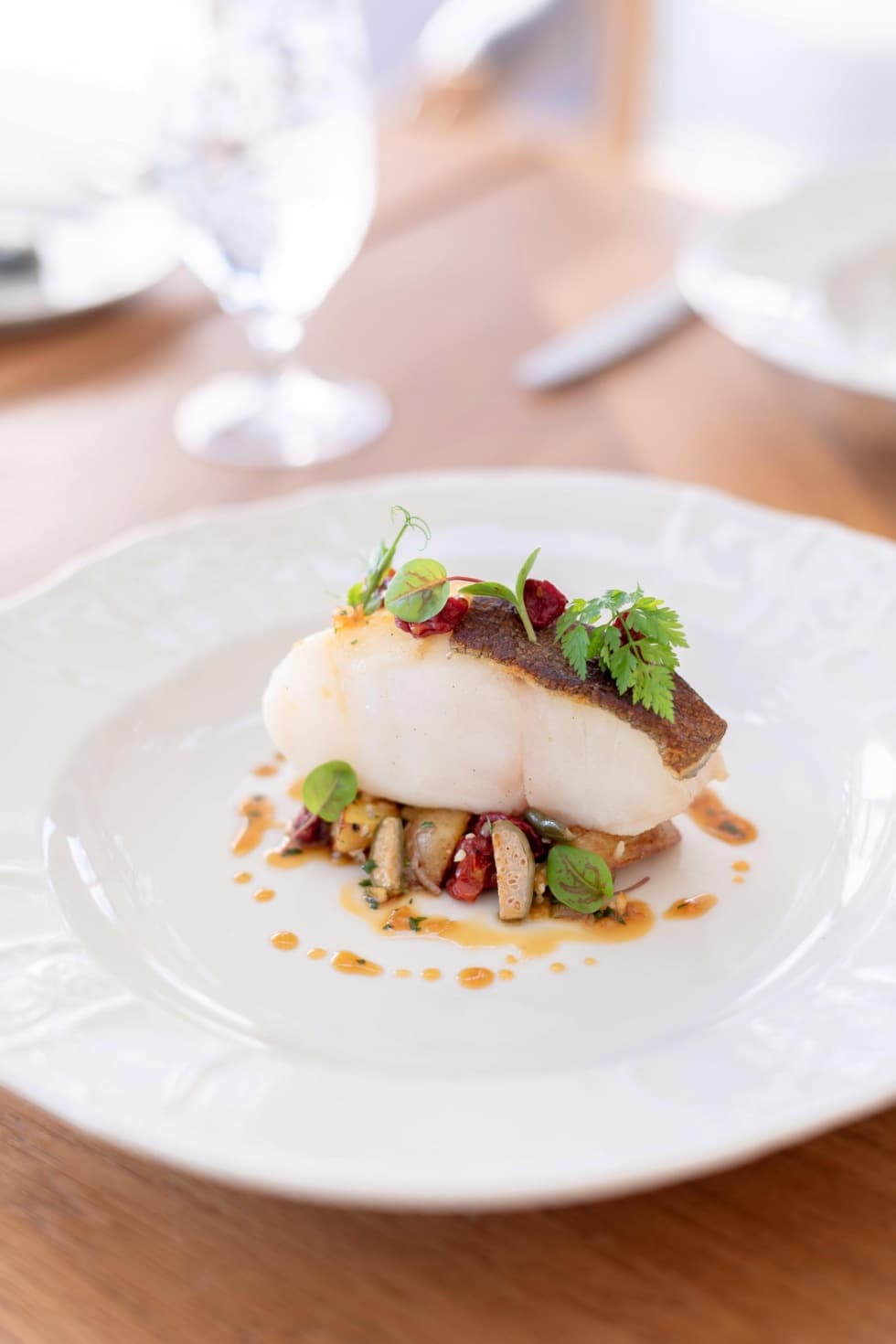 What Are You
in the Mood For?
À la carte menu
from October 26, 2023, 6 p.m.
To Start
Seasonal salad
Ask your server for today's selection
CZK 290
Blackened wild Faroe Island salmon
Celery • Cucumber • Sesame dressing
CZK 390
Beelitz rabbit
Radish • Peas • Green peppercorn sauce
CZK 350
Lobster
Buckwheat • Lobster bisque • Milk foam • Parsley
CZK 490
Soup
Ask your server for today's selection
CZK 290
Main Courses
Signature dish
Nonna Cusumano's Cod
Grenaille potatoes • Homemade sun-dried tomatoes • Garlic • Capers • White wine sauce CZK 850
Gilt-head bream
Tarhoña • Spring Onion • Cucumber • Dill • Baby Spinach • Tomato Salsa
CZK 690
Pigeon
Pumpkin • Rosehip black salsify • Sea buckthorn
• Blueberry sauce
CZK 790
Topinambur
Goat cheese • Morels • Confit celery root • Edamame
CZK 590
Tenderloin of Beef
Kenyan green beans • Chorizo • Truffle purée • Coarse-grained mustard sauce
CZK 950
A Sweet Finale
Sweet gnocchi with poppy seeds
Plum jam • Sour cream • Gingerbread ice cream
CZK 290
Hazelnut cream
Pistachios • Raspberries • Black cocoa
CZK 290
Quark with cherries
Cocoa crumble • Chocolate • Toasted walnuts • Eggs • Cream
CZK 350 / dessert for 1
CZK 490 / dessert for 2
Homemade ice creams and sorbets
Ask your server for today's selection
CZK 290
Selection of French cheeses and Parma ham
Homemade onion-apple marmalade
CZK 390
Enjoy a leisurely chateau breakfast in the Plate, Tea, or Theater Salon of our restaurant, Piano Nobile along with views of the English Park. We offer a breakfast buffet, breakfast menu to order, as well as smoothies and fresh fruit and vegetable juices packed full of vitamins and minerals for your health and beauty.
On selected dates in the events calendar, you can enjoy live piano music along with your breakfast.
You can visit us for breakfast even if you're not staying with us – it's served daily from 8:00 to 10:00 a.m. (reservation required) - and combine breakfast with a pleasant walk in the park followed by a relaxing stay at the MCELY BOUQUET SPA. From June to September, weather permitting, you can also enjoy "Breakfast in the Garden Gazebo" or "Breakfast "While You Wait".
Special Of The Day
St. Stephen's Day
Tuesday, December 26, 2023
Please book in advance. Thank you!
Beef sirloin in cream sauce
Karlovy Vary-style dumplings • Kenyan green beans with bacon • Cranberries
CZK 790
New Year's Lunch
Monday, January 1, 2024
On New Year's Day, lunch is served only as a special menu from 12:00 - 3:00 p.m.
The a la carte menu will be available again from 6:00 p.m.
Please book in advance. Thank you!
12:00 p.m. - 3:00 p.m.
New Year's lunch accompanied by harpist Zbyňka Šolcová
Cream of carrot and orange
Tiger prawns • Coriander • Sour cream

Sea bass
Black salsify • Saffron potato • Baby spinach • Shallot sauce
or
Lamb shank
Parsley root puree • Beetroot • Raisin sauce

Chocolate cake
Salted caramel • Raspberries • Crumble
3course menu: CZK 1,290
Drinks are not included in the menu.
Afternoon Tea
Friday, February 16 - Sunday, March 24, 2024
The Afternoon Tea is always served for a minimum of 2 people and then for an even number of people. We will be happy to arrange this experience for you only with a reservation made at least 48 hours in advance, always from 3 p.m. or 5 p.m. and with 100% prepayment. We look forward to seeing you.
Smoked salmon
Avocado · Rye bread
Egg salad
Cucumber · Potato bread
Butter scones
Vanilla mascarpone · Homemade marmalade
Cold mango soup
Nougat cream
Raspberry · Gold
Chocolate ganache
Cocoa cookie · Roasted nuts
Fruit jelly sweets
Homemade chocolate bark
Macarons with rose
Chateau caramels
Mia Tea select loose-leaf teas made from only the finest tea leaves, blended with the help of leading tea masters, or select coffee from the family-run Mia Coffee roastery
Price for two persons: CZK 1,790
Special menu inspired by the work of Bedřich Smetana
Friday, March 1 - Sunday, March 3, 2024
The menu will be served from Friday from 6 PM until sold out.
Please book in advance. Thank you.
Tiger prawn cream
Whipped cream with fresh marjoram • Coral chips
Confit pigeon leg and pink breast
Parsnip puree • Beetroot leaves • Oyster mushroom • Truffle sauce
Sweet mini-buns
Vanilla cream • Dried blueberries • Hazelnuts
3course menu: CZK 1,690