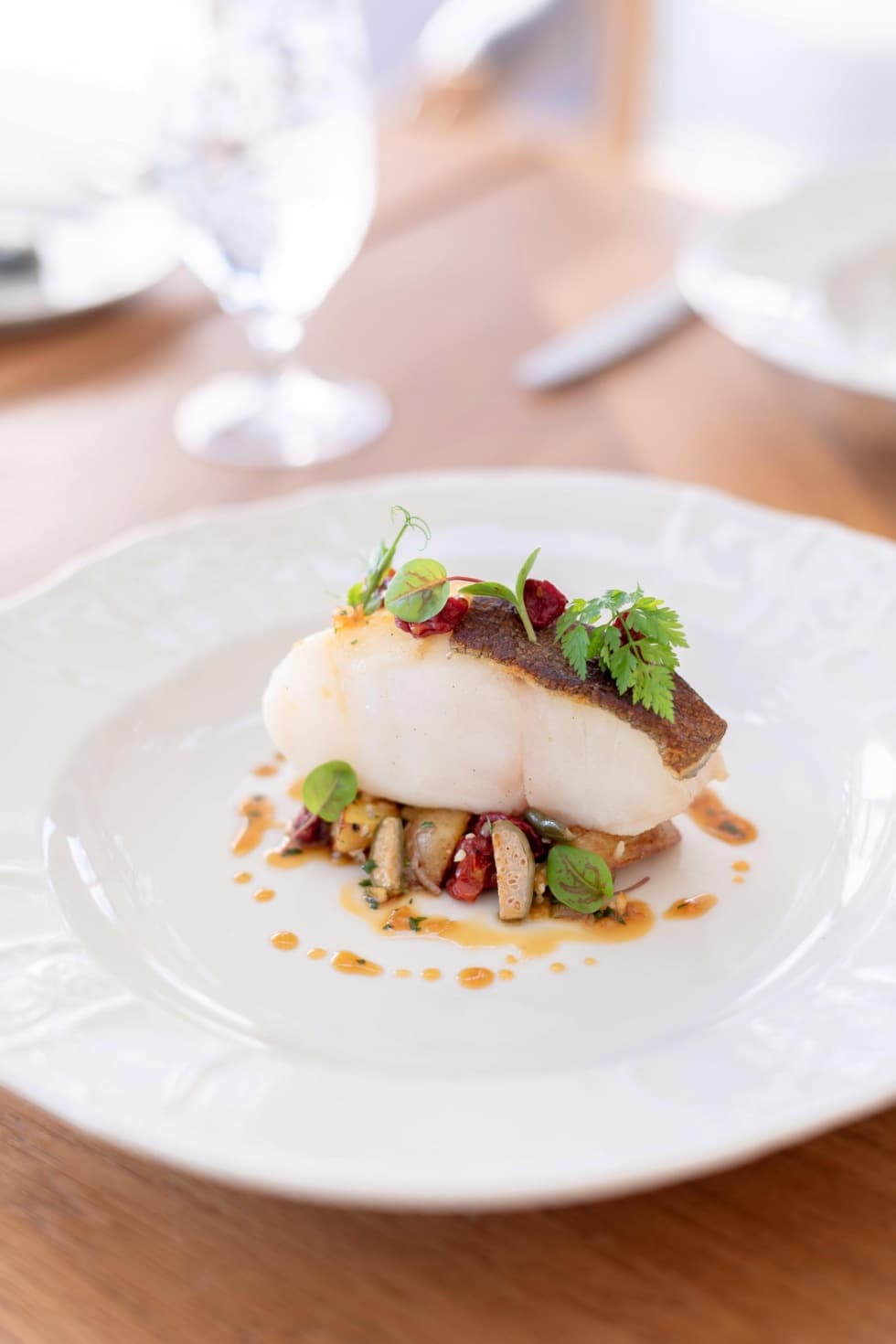 What Are You
in the Mood For?
À la carte menu
from January 7, 2023, 6 p.m.
To Start
Seasonal salad
Ask your server for today's selection
CZK 290
Blackened wild Faroe Island salmon
Celery • Cucumber • Sesame dressing
CZK 390
Cream of porcini soup
Foie gras ice cream • Butter brioche
CZK 290
Soup
Ask your server for today's selection
CZK 290
Main Courses
Signature dish
Nonna Cusumano's Cod
Grenaille potatoes • Homemade sun-dried tomatoes • Garlic • Capers • White wine sauce CZK 850
Suprême of French chicken
Roasted sweet potatoes • Baby spinach • Truffle sauce
CZK 590
Squid ink pasta
Sundried tomatoes • Marjoram • Halloumi
CZK 550
Tenderloin of Beef
Kenyan green beans • Chorizo • Truffle purée • Coarse-grained mustard sauce
CZK 950
A Sweet Finale
Iced chocolate
Nougat cream • Black cocoa biscuit
CZK 350
Walnut pâtissière
Caramelized pears • Filo pastry • Roasted walnuts • Yoghurt sorbet
CZK 290
Forest honey ice cream
Violets • Crumble • Yoghurt
CZK 290
Selection of French cheeses and Parma ham
Homemade onion-apple marmalade
CZK 390
Enjoy a leisurely chateau breakfast in the Plate, Tea, or Theater Salon of our restaurant, Piano Nobile along with views of the English Park. We offer a breakfast buffet, breakfast menu to order, as well as smoothies and fresh fruit and vegetable juices packed full of vitamins and minerals for your health and beauty.
On selected dates in the events calendar, you can enjoy live piano music along with your breakfast.
You can visit us for breakfast even if you're not staying with us – it's served daily from 8:00 to 10:00 a.m. (reservation required) - and combine breakfast with a pleasant walk in the park followed by a relaxing stay at the MCELY BOUQUET SPA. From June to September, weather permitting, you can also enjoy "Breakfast in the Garden Gazebo" or "Breakfast "While You Wait".