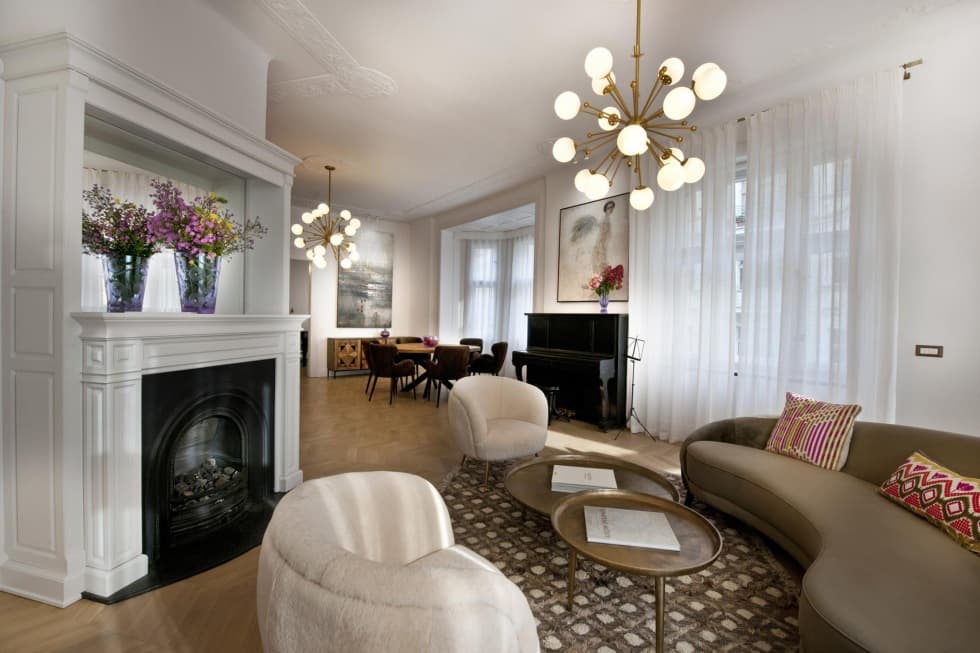 Old Town Prague Apartment by Chateau Mcely
Chateau Mcely presents the elegant new apartment, located in an Art Nouveau building from 1913 in Prague's historical Old Town. The apartment floor plan covers 180 square meters, offering the perfect combination for enjoying the Golden City of Prague. Mcely's timeless design by Inéz Cusumano, the clatter of horse hooves outside the windows on the corner of U Staré Školy Street, and a short stroll to the luxurious boutiques on Pařížská Street guarantee an exceptional experience .
Art Nouveau & Timeless Design
Upon entering the building through a tall entrance door, the historical staircase and modern lift will sweep you up to the third floor. Behind the double doors leading into the apartment itself, guests will be greeted by an extensive hall with a fully-equipped kitchen, designed for their comfort. Ornate hand-painted silk wallpaper invites you to enter a spacious living room with a dining area, with paintings of angels, an open fireplace, a piano, and a round alcove with views over the street. The master bedroom features a hand-stitched headboard and a large en-suite bathroom. The library and study connect to the second bedroom featuring a stylish hydrangea motif and an adjoining bathroom. High white stuccoed ceilings, pale tones, a spacious light-filled interior, exclusive furniture, Moser Crystal glass, and natural materials frame the historical architecture with contemporary charm.
The apartment sleeps two in luxurious comfort, but is spacious enough for a family with children. It is the ideal location for a variety of activities and events, including incentive stays, accommodation for major business partners or friends. It is also ideal for special experiences such as dinners prepared right in front of your guests accompanied by live piano, a Ladies' Day of your dreams with hand and neck massages or creative workshops.

It's also ideal for small conference meetings and important meetings, during which a pleasant inspirational environment is a necessary precondition to solving seemingly intractable problems.
Contact us for a price quote for your stay or company event (Events@ChateauMcely.com).
---
180 m2
Two bedrooms with American King (200 x 200 cm) bed style
Two bathrooms - 1 bathtub | 1 shower | 1 private toilet
Situated on the third floor of an Art Nouveau building
A short stroll to the luxurious boutiques on Pařížská Street
Apartment is fully air-conditioned
Fully-equipped kitchen
Capacity: 4 persons
Possibility to rent for special events. Should you be interested, please contact our events department
at Events@ChateauMcely.com.
For Ultimate Comfort
Yarrow Bath Oil from the MCELY BOUQUET Collection for your bath ritual
Selection of non-alcoholic drinks
White wine, red wine, Billecart Salmon Champagne, selected spirits
Snacks
Nespresso coffee machine
Piano
Harp