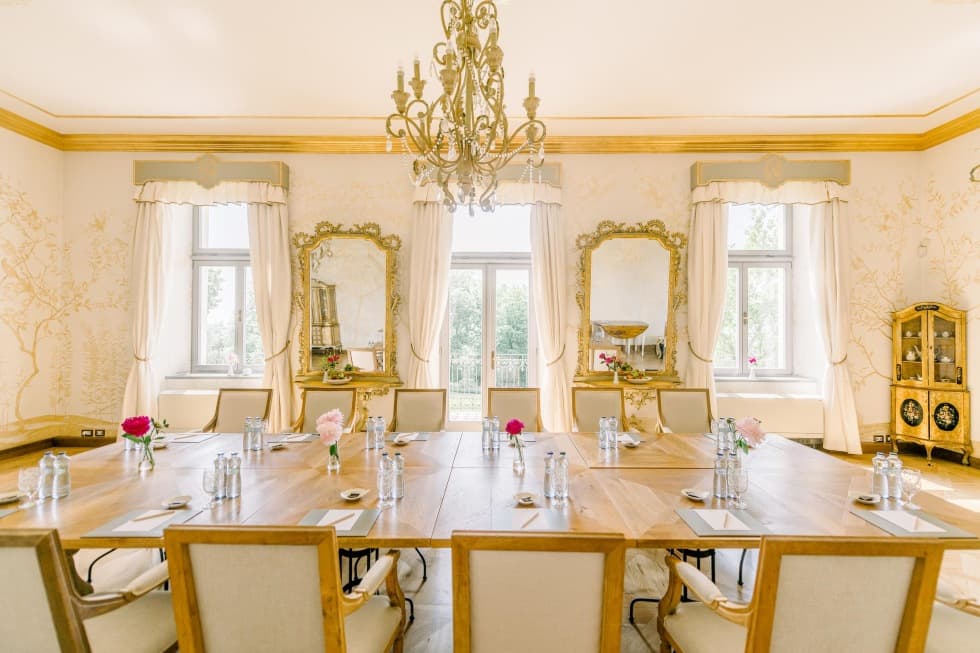 Chateau Halls
& Facilities
Chateau meeting spaces include the Golden Hall, the Studiolo Library, the Plate, Tea and Theatre Salons in the Piano Nobile restaurant and can comfortably host meetings from several participants up to 70 people. Meetings in chateau halls can be combined with sessions in the English park to achieve diversity in the meeting environment and a creative atmosphere. For larger groups or strict privacy, the chateau can be rented exclusively. All meetings spaces are equipped with air conditioning.
---
Golden Hall
Elegant hall on the first floor featuring large windows with plenty of natural daylight and a small balcony overlooking the landscaped grounds
Maximum capacity for meetings is 54 people
Maximum capacity for gala dinners is 30 people
Studiolo Library
Located on the top floor of the tower, providing refuge for presentations, workshops, consultations of smaller teams, or facilities for journalists. From the library, you can go to the rooftop observatory and use the telescope to view the nighttime sky.
Maximum capacity is 10 people
Other Spaces
Halls on the ground floor of the chateau with large French doors in the Piano Nobile restaurant
Alchemist Club with wine cellar
Glassed-in Bellavista Patio
Agape Presidential Suite
English Park
For your creative meeting, you can also use the facilities in the park.
Meditation garden
Scenic view from a fallen oak
Garden gazebo