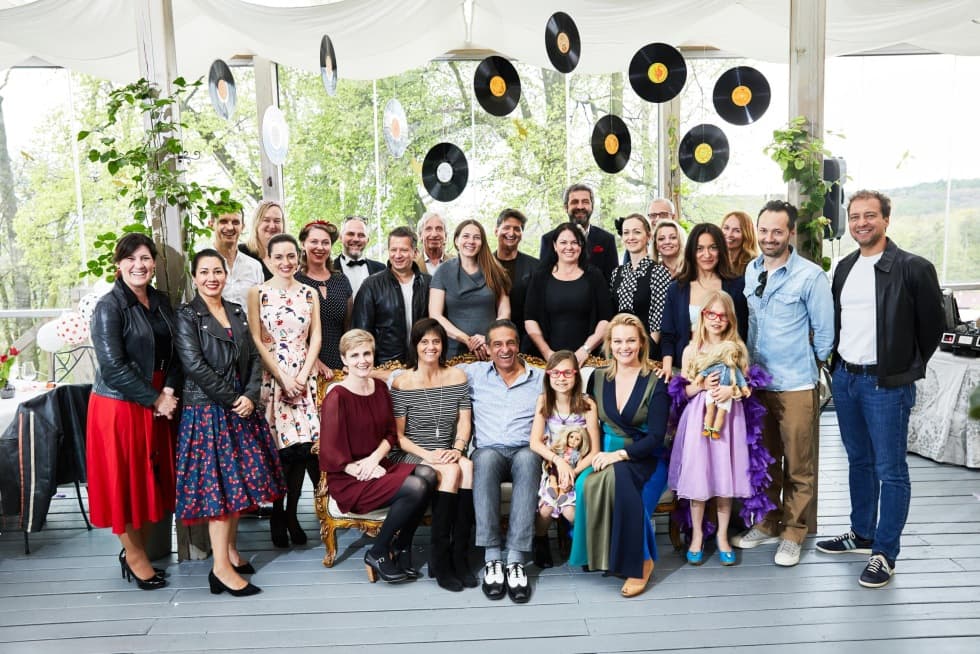 Family Reunions
It's time to start a new tradition of multi-generational adventure - enjoy a family reunion with a personalized program for each member by age to create precious memories.
We'll make everything perfect for you with smiles on our faces!
Here's some sample scenarios that can write a new chapter in your family history.
Multi-Generational Family Adventure
Dear Family,
It's been such a long time since we've all seen each other, so we're organizing a big family reunion for both closer and more distant members of our family as well as family friends that we'd like to bring together from all corners of the Czech Republic and the world! Take a note of where we'll meet - Chateau Mcely, just an hour from Prague. What awaits you? We've planned a five-night stay to ensure we get enough time together. Every evening, we'll have dinner made with our own family recipes, served family-style in large dishes, and taste the best of what we like to eat at home. So send recipes for the chef! And in addition to good food, drink and a comfortable chateau, we have programs full of experiences for everyone.
Children can hunt for treasure in the park and look forward to all kinds of excursions, such as to the nearby Mirakulum amusement park in Milovice, as well as to the castle and chateau at Staré Hrady, where there are lots of fairytale creatures and stories.
Ladies will learn to blend natural cosmetics, do yoga, and get inspired by a cooking course with the chateau chef.
Grandparents will enjoy a traditional tranquil afternoon tea and can walk through the nearby Jabkenice Game Park, a favorite haunt of Bedřich Smetana.
The young people can play an escape game in the cellar, shoot bows and arrows, and sleep in a tent in the park.
We'll all indulge in massages, the sauna and whirlpool, and especially swimming in the natural lake with all the comforts and service of the summer club, just for us.
Frank, you'll be in charge of the tennis tournament - they've got super courts!
In the evening, we'll hang out at the outdoor cinema and enjoy great cocktails named after members of our family - a fun surprise!
See you there, family!
Love, Annie and Tom
Celebrating a Milestone Birthday & Birthday
Dear family, dear friends,
I'd like to invite you to celebration of my big day, one I don't want to miss out on. After all, I'll never be 40 again... So please accept my invitation to Chateau Mcely, where we'll spend one night and enjoy a pig roast, lots of vegetables, my favorite foods, and great summer cocktails. Then we'll dance to a DJ. Oh, and I need help blowing out all the candles on the birthday cake! In the morning, we'll have breakfast on the grass in the blossoming park. So let's get this party going, guys!
Love from the party girl, Petra
P.S. Buy something new and stylish!
Gramping Getaway - A Get-Together with Grandma, Grandpa, and Granddaughter
My dear granddaughter,
We'd love to invite you to Chateau Mcely, setting of the fairy tale story of the chateau princess Nely and her magical cheetah Pralinka. Your mom and dad will enjoy some special time together, just the two of them, to help strengthen their love to make everything even better at home. And what about you?
We'll spend two nights in the Princess Nely suite, where you will be welcomed by a new cheetah friend Pralinka and you will also be able to borrow a princess dress so you can feel like a princess throughout your stay. In the park, there's a playground with a playhouse, a giant chess set, ping pong with Grandpa, and you'll jump for joy when you see the swimming lake and lounge chairs. In the evening, bubbles await you in the whirlpool under the stars. Maybe we'll look at the same star as the mum and dad. At the restaurant, they'll cook what you like best. You'll also love the "Princess Transformation" massage, where you'll not only get a massage, but they'll also do your hair, dress you up in other princess dresses, powder your nose and paint your nails. We'll take a horse-drawn carriage ride. And if you want, we can go on an excursion to nearby Loučeň Chateau, where you can get lost in the labyrinth in its huge garden, or maybe to the petting zoo in Chleby. So what do you think?
We look forward to seeing our sweet girl and spend some time together. I'm sure you can't wait - I know we can't!
With love. your Grandma and Grandpa
P.S. Grandma is glad she won't have to cook, but she'll be happy to make your favorite apricot dumplings the next time you visit us at home!
Welcome Our New Baby to the Family
Dear family and friends,
It's finally time to present the newest member of our family. She's been looking forward to meeting you for a few weeks now, but doesn't want to grow too big for you to enjoy her baby smell and tiny fingers. We'd therefore like invite you to Chateau Mcely, the site of the Miracle of Mcely, where the Virgin Mary of Mcely once appeared and who will surely protect our little miracle at every turn. We will start with a baptism ceremony in the Gothic church of St. Wenceslas. We'll enjoy a family lunch with romantic live piano music. We'll also enjoy a cocktail inspired by and named for our daughter. Grandmas and aunts can push the baby carriage around the beautiful park, where we'll also plant a tree together to grow along with our Lucy. Finally, we two will learn to massage our little girl during an instructional massage so that we can pamper her every day during the bedtime ritual.
We look forward to seeing you all!
Love, the new family - Jana, Lukáš and Lucy
P.S. Zdeňka and Honza - we all look forward to your wedding at Mcely next year! Lucy will be happy to be your flower girl.
Get inspired by Jim Cusumano's Family celebration