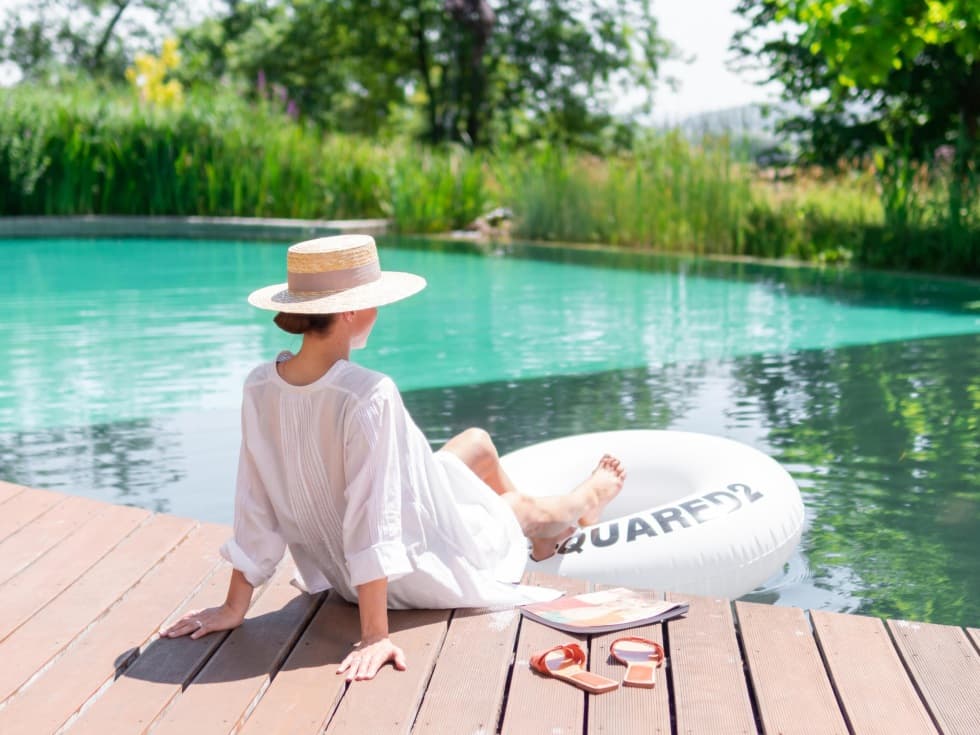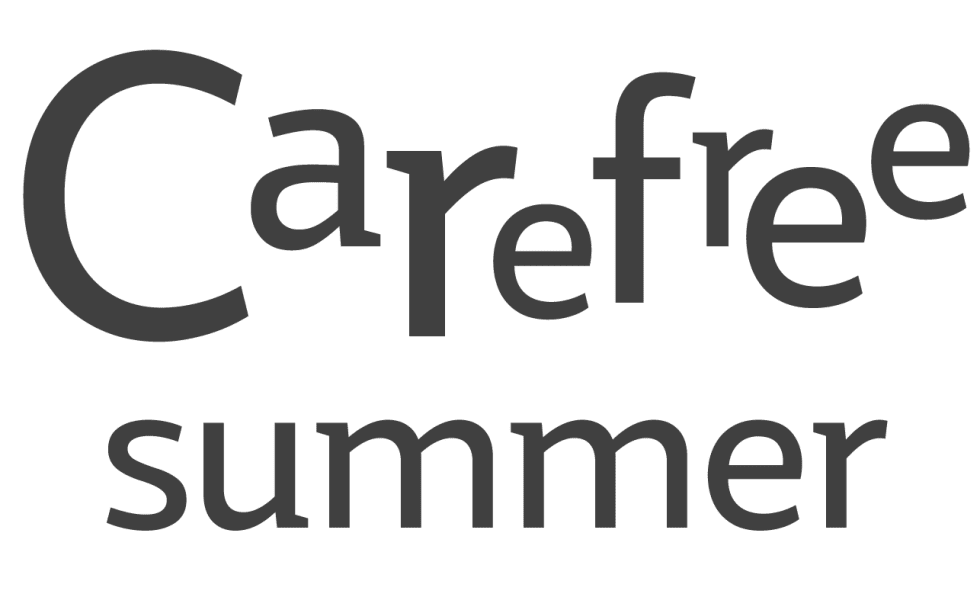 June · July · August
Mcely—this is paradise
Mcely Summer Club powered by DSQUARED2 · Swimming in the natural lake, lounging
around and tanning on the Mcely beach in the heart of the chateau park · Beach girl during summer holiday · Champagne · Cocktails ·
Homemade ice cream · Massages and summer Spa · Relaxing in the whirlpool under the stars · Sunset dinners ·
Extensive events calendar · Excursions on a stylish Vespa or bicycles · Deep relaxation amidst the meadows and forests
This is summer at Mcely. Take inspiration from our team video from Grease and dance through the Mcely summer with us! We look forward to seeing you.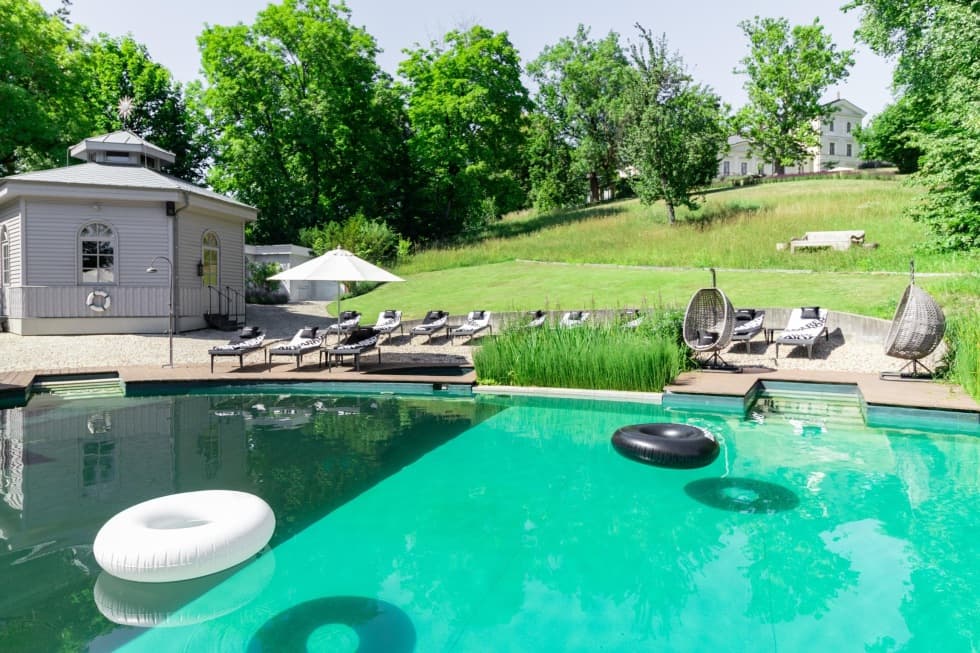 Mcely Summer Club powered by DSQUARED2
In the heart of the chateau park, hidden between the greenery and the flowering meadow, you'll find a place for carefree summer relaxation: a natural swimming lake ringed with loungers, wooden day beds for private use, a summer bar with Champagne Veuve Clicquet, cocktails, and veggie crudites.
Throughout the summer if the weather is good, our friendly beach girl will quietly take care of your comfort.
For maximum comfort and to ensure the calm private atmosphere of the Mcely Summer Club, it will be accessible only to accommodated guests from 3:00 PM on day of arrival until 11:00 AM on day of departure. Summer bar is open from 12:00 PM until 5:00 PM.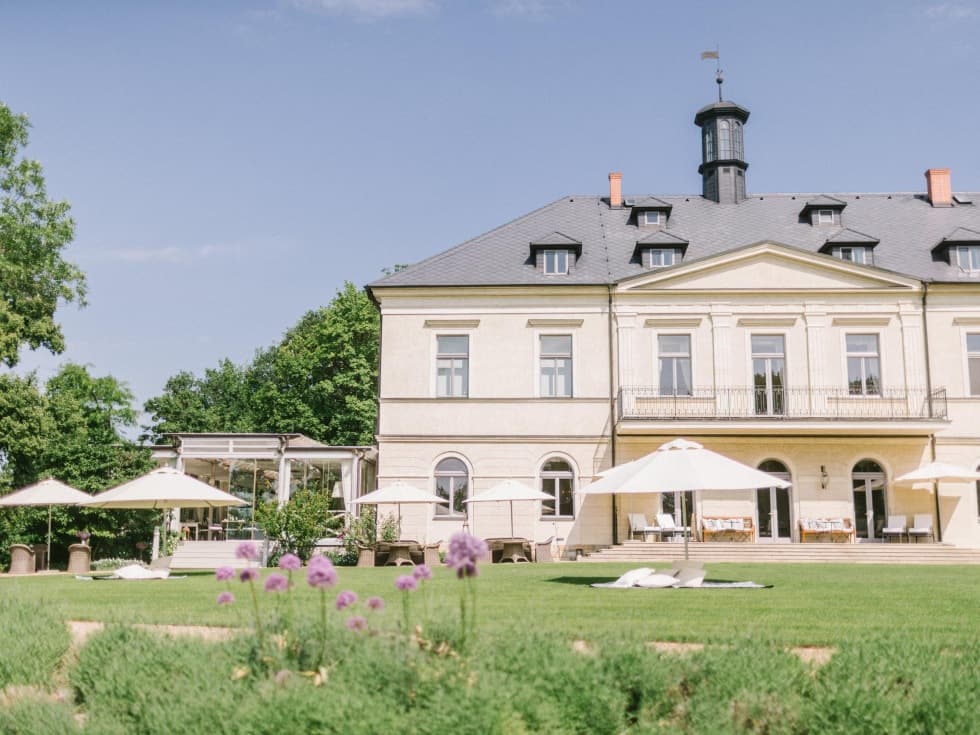 Aenean eu leo quam. Pellentesque ornare sem lacinia quam venenatis vestibulum. Nullam id dolor id nibh ultricies vehicula.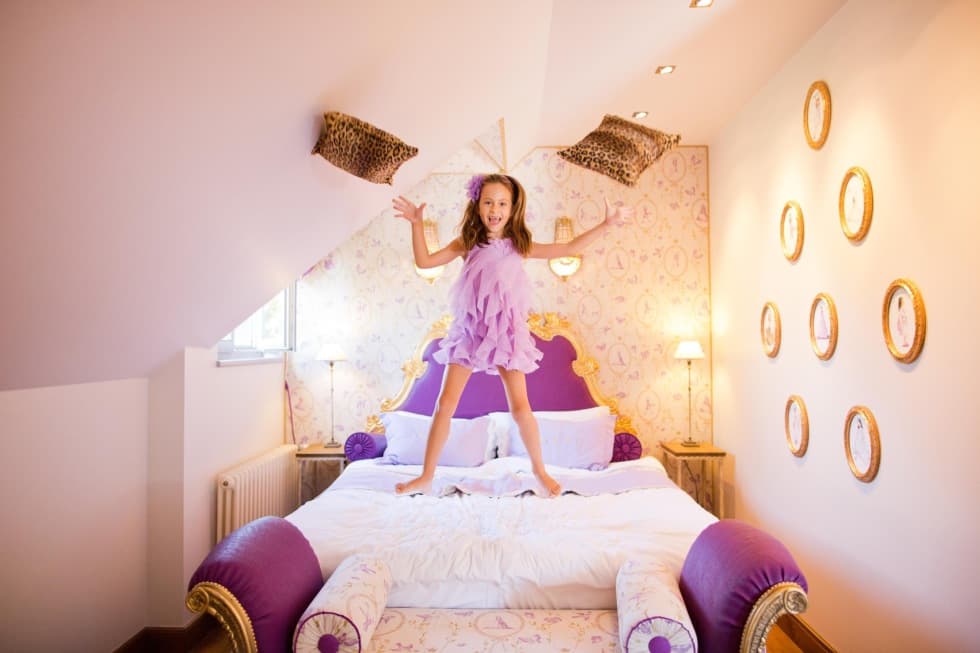 Aenean eu leo quam. Pellentesque ornare sem lacinia quam venenatis vestibulum. Nullam id dolor id nibh ultricies vehicula.
Summer Spa
Beach Body Massage
Limited Summer Promotion
Our Sage Body Scrub, made
with Himalayan salt, helps rid the body of impurities and removes natural deposits of dead skin cells.
During the exfoliating detoxification, enjoy an anti-stress massage of your scalp and face, which helps rid the body of excess tension. After the exfoliation, enjoy a full body hydration massage with our nourishing Melissa Body Balm made with shea butter and rare essential oils.
Available from June to August.
90 minutes - CZK 3,690
Beach Goddess Ritual
Detoxifying and slimming ritual
This cleansing ritual reduces the appearance of cellulite, firms, smooths and softens the skin of your entire body.
It combines the detoxifying effects of four MCELY BOUQUET products - Sage Body Peeling, brightening Calendula Body Mask, invigorating Yarrow Massage Oil and refreshing Mint Relief Balm - with MCELY BOUQUET Aroma Massage techniques and stimulating methods focusing on the problematic areas of the body affected by cellulite.
120 minutes - CZK 4,990/per person
---
Active Relaxation with a Personal Trainer
Movement activities for children aged 6 and up
An easy workout tailor-made for the youngest. Children can look forward to a fun circuit training with fitness devices, as well as classic sports games and competitions. The exercise takes place on the tennis court, in the English park, and on the fitness trail.
Sports training
Bike rides in the surrounding forests
Running on forest paths
Outdoor fitness in the park
Healthy back yoga
Stretching in the meditation garden
Price for additional activities from: CZK 790 / 60 min.
Reserve at least 3 days. Available from June to August.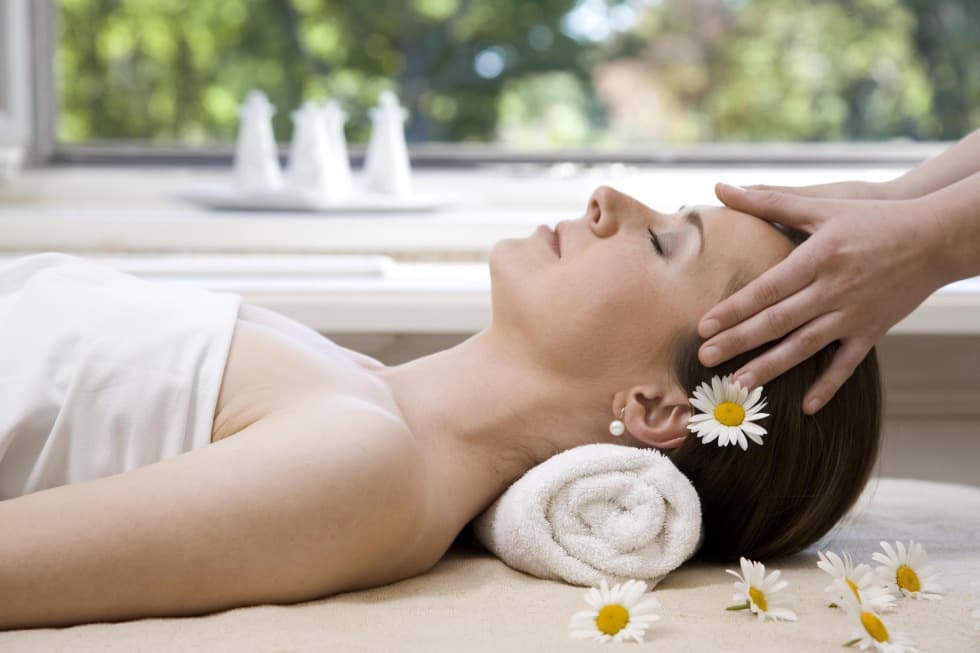 Kutná Hora, 60 minute drive
Kids FAJNPARK Chlumec Cidlinou, 50 minute drive
Kačina Chateau, 50 minute drive
Prachovské Rocks, 40 minute drive
Sychrov Chateau, 40 minute drive
Poděbrady Spa – King George cruise ship and train ride, 30 minute drive
Dětenice Chateau Resort, 15 minute drive
Walks through the Jabkenice Nature Preserve
Bike excursions along new cycling paths criss-crossing the gently rolling terrain around meadows and fields
We will be happy to arrange babysitting and children's program upon agreement (children's yoga, physical activities, scavenger hunt in the park and nearby forest, arts and crafts, tennis lessons, etc.).