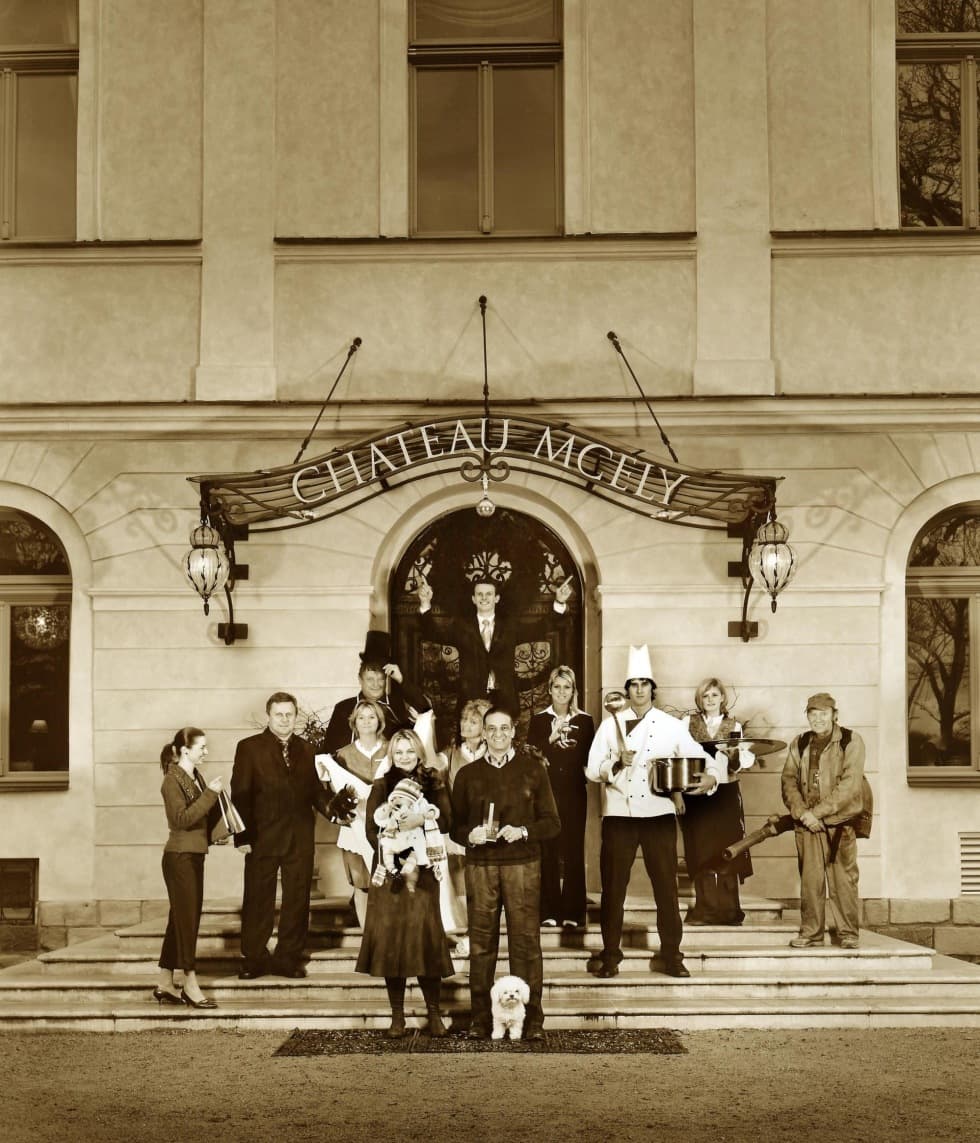 The Chateau Mcely
Dream Team
#chateaumcelydreamteam
---
With a Passion for the Cause
What unites the team of more than fifty colleagues at the chateau? They're hardworking, conscientious, share the values they have set for themselves, and are, in the best sense of the word, obsessed with their work. "You have to trust yourself. You have to have talent, skills, the ability to work hard. And you have to enjoy your work, have a passion for it. When you put all your energy into your actions, there's no way you can fail. Especially when you're also focusing on something that benefits people," says Inéz Cusumano.
The founding members of the Mcely team established common values in the early hectic days after the chateau opened in May 2006. At the time, Jim Cusumano saw this as one of his priorities, despite the fact that the others preferred to process orders quickly and fine-tune the final details. The time was right for Jim, and today the chateau's director, Vlastimil Plch, admits with a smile that Jim's initial spiritual insight impressed the Chateau Mcely team with its cohesiveness and uniqueness. Things truly are done differently here and everyone who enters the chateau feels it. When your way of working is based on lasting values, this is key to translating a higher purpose into everyday reality. Although it is very difficult to harness in hotel operations, everyone here strives constantly to achieve these values. It's useful not only when solving problems at work, but also personal issues. And that's why the Chateau Mcely team wants to share these values with you.
The Nine Values of the Mcely Family:
Never stop surprising our guests.
Consider carefully the feedback from our guests and colleagues.
Respect each other and be considerate in everything we do.
Strive to bring joy to the lives of everyone around us - our clients, our colleagues, and ourselves.
Work together to solve problems.
Keep learning as an organization.
Focus on the 3 Ps: People, Planet, Profit
Work together like a family.
Be the Dream Team – care for each other and give each other attention.
Each member of the team has found a different passion at Chateau Mcely - one was crazy about cooking, one has a talent for communicating with clients, one is amazingly detail-oriented. Of course, everyone had to sacrifice something for their jobs to some extent, whether it meant moving to a new town or a radical change in lifestyle and rhythm. Their reward, however, is working in an open and honest team that listens to and actively builds on feedback while providing a creative environment for personal growth. "People should focus on what they enjoy and what makes them happy. You can only help make the world a better place if you yourself are happy. We wanted to create a place where our employees could develop personally, gain self-confidence, and find their strengths," adds Jim Cusumano. From the smiling faces of colleagues, it's clear that the owners succeeded.
It must be emphasized that the current appearance of the chateau and its atmosphere is the result of hard work by all members of the Chateau Mcely team, and everyone deserves a big thank you for their diligence, love, and efforts.
"Sometimes I feel that the chateau was my destiny long before I was born. My predecessors come from the area near the chateau, and I came back here after a number of years away. As a child, I loved playing in the chateau and listening to my grandfather's stories about Mcely, Bošín, and their surroundings. I met my husband in the village behind the chateau and later we got married here. I've been enjoying my job here for ten years and I don't want to give it up, even though we have two small children. Sometimes it's hard work, but it's worth it. When I'm here, I'm happy - it recharges my batteries," reveals Eva Plchová, our public relations manager.
Karla Malíková, our marketing manager, who also fell in love with the chateau and got married here, describes her relationship with Chateau Mcely even more concisely: "Love at first sight!"
The Dream Team in Numbers (2006 - 2016)
Couples that formed within the team: 10
...and those who went on to get married: 4
Couples who came to the chateau already married: 2
Children born to members of the chateau team: 15
Team members who have been with us for more than 5 years: 18
Join Us
You'll find a list of our current open positions in the Career section (see below). If you'd like to join our team and don't see anything which fits your professional profeil, send your CV to: Petra@ChateauMcely.com.